Five Ways To Eat Healthier in College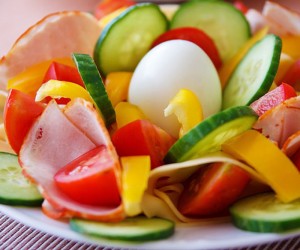 by Amanda Ricks
Eating healthy while in college can be a daunting task. Fast food restaurants, particularly ones with a dollar menu, are cheap and easily accessible, and this convenience can sometimes outweigh the negative consequences of eating foods that have been fried, saturated, or greased.
The following are some tips for cleaning up your diet:
Stock your refrigerator with fresh fruits and vegetables. When it comes to a late night craving, you won't feel guilty if you've snacked on carrots or grapes rather than a doughnut or chocolate cake.
Plan time for your meals. If you plan time, you are more likely to eat a balanced and nutritious meal.
Don't always fall for the "free candy" gimmicks thrown at you by different clubs. Generally, the piece of taffy isn't worth the time or signing a piece of paper. If the treat is your sole incentive for going to meetings, perhaps you could better spend your time making yourself a healthier meal that can fill you with nutrients.
Make a shopping list. If you buy food and have meals planned, it will mostly end with pleasing results for your body and your pocketbook.
Take healthy snacks to campus with you. If you have some almonds or dried fruit with you, you are less likely to buy a high-fat, high-sugar candy bar because you're hungry in between classes. Additionally, carry water around with you on campus. Staying hydrated is key to being healthy.
Eating healthy in college can be affordable if the necessary time is put in. Who knows? Maybe next time you are thinking about making cookies for that cute boy in your ward, you can take him a plate of carrots instead.
---