BYU Jazz Ensemble's Variety Show
by Amanda Ricks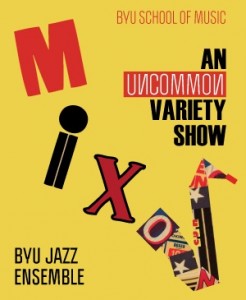 Attending the BYU Jazz Ensemble's Variety Show began as a mere way to get extra credit in my Music Fundamentals class. While I was expecting to enjoy the music of the concert, I certainly wasn't prepared for one of the most entertaining concerts I have ever been to.
Mark Ammons, the director, announced to the audience that we were actually witnessing a Live TV Show. As we travelled through time, we heard music from pop legends like Elvis and the Beatles.
While obviously these impersonations were pretty memorable, the dialogue between Ammons and the performers was especially memorable, particularly a discussion of their bank robberies, their hairstyles, and even a remarkably accurate representation of John Lennon's mumbling in "I'm So Tired."
The finale proved every bit as fun as the rest of the performance. As the Beatles were the last performance, they began singing "Hey Jude" while the rest of the performers joined them. Eventually, the audience was singing along and the entire Jazz Ensemble was at the front of the stage. There was a definite connection between the music and the audience.
Overall, it was one of the most entertaining concerts I've ever been to. Great job to Mark Ammons and the BYU Jazz Ensemble!
---