Couponing for Beginners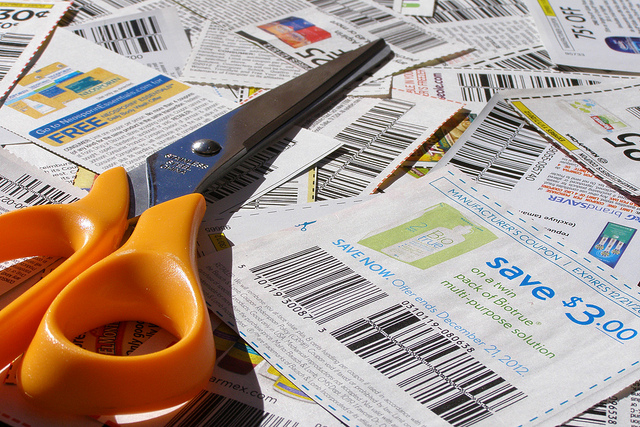 I grew up in a big family, and my parents were always looking for ways to save money. My mom turned to coupons to buy the necessities without spending ridiculous amounts of money. Couponing can help families and individuals save a lot of money, especially when they are used correctly. Here are some steps to help you start couponing:
Collect Coupons: Most of us have that huge pile of junk mail and advertisements that gets delivered to our houses a few times a week. I usually throw it aside, find it weeks later, and throw it away. Many of those advertisements, however, come with coupons in them! Looking through these advertisements, the Sunday paper, and local store ads are a great way to find coupons. Many stores also have online coupons or apps that allow you to download coupons while you're standing in the store!
Organize your Coupons: Once you start collecting coupons, you're going to need some way to keep track of them all. The best way is to organize by category (e.g., food, cleaning products, and health care) and expiration date. There are several ways to do this. My mom would get the small, cheap photo albums that hold about twenty 4" x 6" photos and organize her coupons in that. Other people use binders or little containers designed to hold 3" x 5" index cards. Find the way that works for you and use it!
Find the Deals: This is a step that many beginning couponers miss. Just because you have a coupon for an item doesn't mean buying that item will save you money. If you usually buy the cheap, off-brand version of something because it's $1.00 cheaper than the name-brand version, then you aren't going to save any money if you buy a name-brand item with a $0.75 off coupon—you'll still end up spending $0.25 more than if you bought the off-brand item. If you can find an item on sale, and then use a coupon with it, that's when the big savings start to happen.
Know Store Policy: Different stores have different coupon policies, such as doubling coupons on one item or using multiple of the same coupon in one transaction. Make sure you know what your store policy is so you can use your coupons most effectively and avoid any surprises at check-out.
Save Money: You're ready to start! If you've found and organized your coupons and located the deals, then you are ready to save money. Good luck with your couponing!
---
---