Four Ideas to Give Children a Voice
Most people hate the feeling of being ignored. Whether in a classroom with a hand raised for a long time or at home with family who are busy doing other tasks, children may experience this feeling every day—not having a voice, that is. Giving children a voice is essential to their self-esteem, social development, and ability to get what they need and share what they want.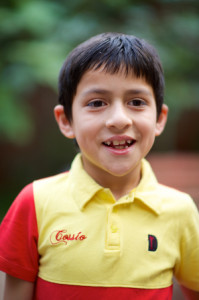 In addition to the many methods of involving children's voices—in family councils, as Elder Russell M. Ballard of the LDS Church recently taught, or in daily decision-making—I decided to compile a list of digital examples of children using their voices. My hope is that we can consider these examples—of children reporting the news, publishing their writing, reviewing their favorite stories, and sharing their faith—and then make changes to allow the children in our lives to have more of a say and more of a spotlight.
1. Reporting the News
I came across Time for Kids a few months ago when trying to find news that would be interesting to the students I was teaching. The site includes stories of interest to children by children, under the Kid Reporters tab. I noted kids writing about other kids who have served in their communities, writing about endangered animals, interviewing celebrities, and more.
Seeing how these children were given a voice—or at least a place to publish—helped inspire me to start a classroom newsletter, newspaper, or magazine written by students. How would you use Time for Kids to help a child dream big about sharing his or her ideas?
2. Publishing Writing
When I was in elementary school, I was intrigued by the writing contest by Reading Rainbow on the PBSKids channel. I sent in several stories, and although they weren't selected by the contest, I had fun imagining, writing, and illustrating. The contest continues today—for grades K–3. A teacher or a parent could show children these examples of contest-winning stories and then help them write their own stories. In addition to the PBSKids contest, there are many other annual writing contests for kids.
A couple of simpler ideas—though not as prestigious as a contest—are to use a blog such as Blogger or a website like Weebly to publish writing for parents and peers to access with a password.
3. Reviewing Favorite Books
I stumbled across Spaghetti Book Club on the Internet and realized what a great resource it is for parents, teachers, and children. Members of the club can post their reviews of any picture book or chapter book, getting a chance to read and write for an audience, which can be incredibly motivating for kids. Anyone—member or non-member of the club—can read the reviews, and you can search by author, title, or grade level of the student reviewers.
Children who are reluctant readers may find it cooler to read a book review written by someone their age. They might use the site as a model for writing their own book reviews, as well.
4. Sharing Faith
The LDS Church produces videos on children around the world describing their lives and their faith, a project called One in a Million. I watched a video on Kuulani from Tahiti who plays music for church, and one on Alberto from Mexico who recovered from an illness by choosing to be healthy to obey God.
I think there's a lot of potential to use these videos in Primary lessons or Family Home Evening lessons to show children how others their age are living the gospel. They could create their own videos or picture slideshows with their own stories of faith.
Of course, adults need more support to respect children's voices than just viewing a few websites, but these resources can provide a starting point. Children have important ideas to share, and we can help give them a voice.
—Leah Davis Christopher, Stance
Images and videos from lds.org
---
---