Frugality in the Engagement: Stationery Edition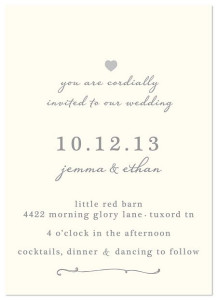 Once the flutters in your tummy have calmed down a little since he proposed (which, let's face it, they never really do!), you may start worrying about the daunting task ahead of you and how much money it's going to involve. Don't be overwhelmed, though, because there are many ways to save on wedding expenses, and stationery is the perfect place to start!
1.     Simplicity
We all love fancy extras like envelope liners, ribbons, and tissue paper, but when applied to 300 invitations, these small accessories can eat into your budget very quickly! Keep it simple and print one card with a whole 6 3/8 by 8 7/8 inch canvas for your creativity to go wild on.
2.    Utilize Technology!
Think you need to include maps or directions for your wedding location in each invitation? Think again! The wonderful gift of GPS allows your guests to search for any address, anywhere. If you're still apprehensive, post directions on your custom (free!) wedding blog that most wedding planning websites allow you to create.
3.     Save the Save-the-Dates
Save-the-dates are cute, but when you're tight on money, the truth is they're just a super-cute photo that you're sending everyone to advertise how precious you and your significant other are. All that information and cuteness will be reproduced on your wedding invitation, making the original save-the-date a little redundant. Besides, by using social media or your previously mentioned, totally adorable wedding blog, you can "save the date" with every post acting as a reminder, photo op, and update on you and your big day!
4.     Go Full Custom
You're engaged! The first big thing to do: pick out invitations. The first gigantic stressful thing to do: pick out invitations. It's not matching your colors, the fonts are weird, the design is too fancy or too plain, the format is all wrong—what to do?! The answer is three letters: D. I. Y. Do it yourself! It sounds frightening, but don't be alarmed. Premade, blank wedding invitations can be picked up at Michael's for around $25 a box. You can then print your invitations at home or at a print shop. If you take them to a print shop, printing in black ink can easily your costs in half!
Here is a list of 72 free printable wedding invitations from Popsugar.
5.     COUPONS!
However you choose to purchase or create your wedding invitations, coupons can ALWAYS be huge cost reducers! Wedding magazines and websites like The Knot, Ann's Bridal Bargains, Zazzle, and Wedding Paper Divas always have deals going on. Online promotions at craft stores are also worth looking at.
Realistically, your wedding invitations are just a piece of paper. A very important, memorable, sentimental piece of paper. So don't stress about them! Have some fun and let your imagination run free!
—Miray Weeks, Editor, Stance
---
---