Goal-Setting with Children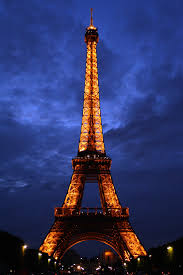 When I was a sophomore in high school, I found out about a school trip to France that would take place about 18 months later. As a French 1 student and a less-than-frequent traveler, I was eager to go on the trip. Staying with a host family, dining on the Eiffel Tower, visiting WWII beaches, attending a ballet at the Paris Opera House, and exploring art museums were all included in the cost. The $4,000 cost, that is. I turned to my parents for their advice—hoping for their wallets, too. They helped me realize that I would find the trip much more valuable if I saved my own money. They agreed to pay for half the cost if I would pay the remaining $2000.
My parents helped me set goals to reach this seemingly impossible amount. First, I needed to get a job. I approached several adults I knew who owned companies about obtaining a job for that summer. After my first-ever interviews, I was hired to work part time at a fast food Mexican restaurant and part time at a home furnishings store. I continued babysitting for families when I could, and I saved rather than spent my paychecks.
My parents supported me in these endeavors to reach my goal. Since I still lacked a driver's license, they dropped me off and picked me up every day from work. They helped me open a bank account in which to place my savings. They even paid for my first-ever passport and continued to pay for track and choir activities I was involved in that year.
Looking back, I would not have met my goal of going to France without my parents' support.
When parents work with children to set and reach goals, children will be motivated to make the necessary sacrifices to achieve those goals. Whether the goal is related to saving money, building character, improving in athletics, learning to play a musical instrument, achieving good grades in school, completing family duties, or planning a service project, children will need help in forming consistent habits that will lead them to that specific goal.
A free online course from Glenn I. Latham, Ed.D. of Utah State University teaches parents how to help children achieve success in their education. The following six suggestions apply to helping children meet other goals, as well.
Spend time talking with children. I think this means that parents need to listen and share ideas regularly in order to find out what a child wants and needs.
Encourage learning. Many times children get discouraged at the length of time it takes to reach a goal, but parents can help by reminding children to do their best to improve.
Read daily to and with children. Not only will children be exposed to more ideas and world views, but parents can see what is important to their children.
Share (realistic) hopes for what children can do and become. The author of the course describes how he and his wife helped their children imagine what kind of car and house and clothing they hoped to have in the future. Then they doled out money—to the children's delight—and let them pay for each desired thing in order to see how each of those things required money. The discussion turned to the need for education in order to earn the money necessary to fund those dreams.
Provide direct help. Parents can help children with homework, model and give feedback on catching a ball, practice lines for a play, and so on.
Organize time and space. In the course, this directive specifically refers to organizing time and space to do homework, but it can apply to any kind of goal. Children will need time to work toward goals, and they may need specific materials and places to use or store them. As parents plan for and work with these needs, they will accommodate their children in reaching goals.
—Leah Davis Christopher, Stance
Images from Wikimedia Commons
---
---