Healthy Recipes in College
by Amanda Ricks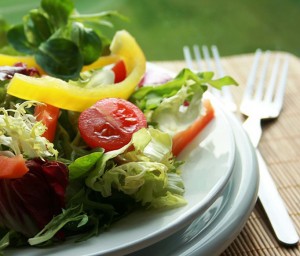 As a follow-up to my last blog post on eating healthy in college, the following are a few recipes that are both healthy and cheap!
Carrot Cake and Zucchini Bread Oatmeal
½ cup steel-cut oats
1 ½ cups vanilla-flavored nondairy milk (coconut, almond, rice, soy, etc.)
1 small carrot, grated
¼ small zucchini, grated
Pinch of salt
Pinch of nutmeg
Pinch of ground cloves
½ tsp. cinnamon
2 Tbsp. brown sugar or maple syrup
¼ cup chopped pecans
Directions:
The night before, oil the crock of your slow cooker. Combine all ingredients, except pecans. Cook on low for 6 to 8 hours.
In the morning, stir the oatmeal, taste and adjust the seasonings, and add more milk if needed. Top with the chopped pecans.
This recipe is absolutely delicious. Whenever I make it, I find myself so excited to go to bed at night because I know I will wake up to the delicious smell of oatmeal.
Fruit Trifle (from chefintraining.com)
Fruit:
Fresh pineapple
Fresh strawberries
Seedless green grapes
Seedless red grapes
Bananas
Topping:
1 ¼ cups milk
½ cup sour cream
8oz. crushed pineapple
1 (3.25 oz) package instant banana cream pudding
Directions:
Layer fruit in a large bowl or trifle bowl.
For the topping, whisk all ingredients together until well combined. Spread over the top of trifle.
Arrange any extra fruit on top for a pretty presentation.
This fruit trifle is delicious. When I made this, I used sugar-free pudding. Not a good idea. Stick with the regular pudding and trust the fruit to keep it healthy.
BBQ Chicken Ranch Salad
1 bag Spring Mix lettuce
½ can black beans, drained
½ can corn, drained
½ red pepper, chopped
1 cup cheddar cheese
1 lime
1 bag corn chips
4 chicken breasts
½ cup BBQ sauce
Dressing:
1 ½ cup ranch dressing (not buttermilk ranch, just regular)
¾ cup BBQ sauce (Sweet Baby Ray's is my favorite)
Note: For smaller amounts, use 2 parts ranch to 1 part BBQ sauce.
Directions:
Put the chicken into a 9 x 13 pan that has been sprayed with cooking spray. Pour the BBQ sauce over the top. Bake at 400°F for about 25–30 minutes. Once it has cooled, chop or shred chicken into 1-inch pieces.
Chop up the lettuce and place in a large bowl.
Add the corn, beans, and chopped red pepper to the salad greens. Add the chicken, chips, and cheese, and squirt the lime all over the top.
I use this recipe all the time. It's a big crowd pleaser and tastes like it would be a lot harder to make than it actually is.
2 Ingredient Pumpkin Muffins (from www.food.com)
18 ounces spice cake mix
15 ounces pumpkin (not pumpkin pie mix)
Directions:
Simply mix the pumpkin and the spice cake mix together with electric mixer until well combined.
Spoon into small, paper-lined muffin/cupcake tins, 2/3 full. (The batter is very thick and doesn't "settle," so you may wish to smooth the tops if you care what the finished product looks like!)
Bake at 350°F for 18–22 minutes or until a knife comes out clean.
What kind of recipe collection would this be without a dessert? When I made these muffins, I substituted devil's food cake for the spice cake mix. I also added in chocolate chips and peanut butter dollops because I was making them for company. They are delicious with or without these things added in.
---