Pumpkin Cookies
The cold season is finally deciding to settle in, and that means it's time to break out the cider, hot cocoa, a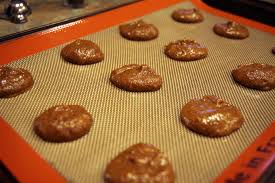 nd . . . pumpkin cookies! Normally I make my pumpkin cookies with a box of spice cake, but I decided to venture out a little this time. Though not as simple as using a box cake, this recipe is still really easy and delicious. I made these cookies to deliver to some friends and they loved it!
Ingredients
1 cup canned pumpkin
1 cup white sugar
1/2 cup vegetable oil
1 egg
2 cups all-purpose flour
2 teaspoons baking powder
2 teaspoons ground cinnamon
1/2 teaspoon salt
1 teaspoon baking soda
1 teaspoon milk
1 tablespoon vanilla extract
2 cups semisweet chocolate chips
 Directions
Combine pumpkin, sugar, vegetable oil, and egg. Dissolve the baking soda into the milk and stir in.
In a separate bowl, stir together flour, baking powder, ground cinnamon, and salt. Add to pumpkin mixture and mix well.
Add vanilla, chocolate chips and nuts.
Drop by spoonful on greased cookie sheet and bake at 350˚F (175˚ C) for approximately 10 minutes or until lightly brown and firm.
By Sarah Perkins
---
---