Vintage Ice Cream vs. Modern Ice Cream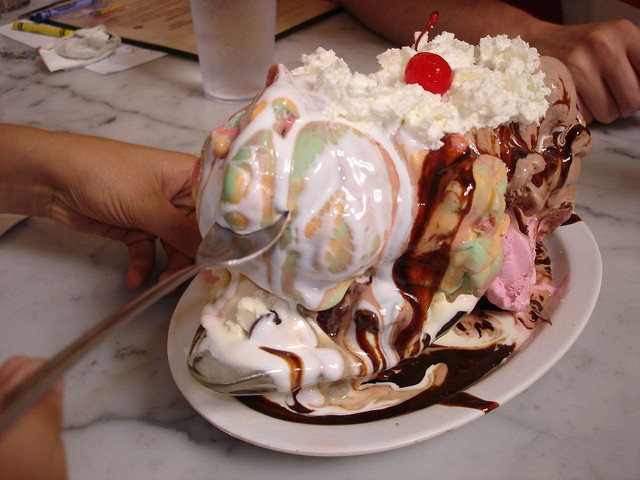 Ice cream is a beloved treat all across the world. Nowadays, it seems that most ice cream shops are in a buffet set up, either where you make it yourself or the store puts it together for you. I absolutely love these places because I choose exactly what ice cream and toppings I want. But what about the old-fashioned ice cream parlors? We don't see many of those around anymore, but they are still here and absolutely delicious! There are pros and cons to both types of ice creams shops. I mean, how can you go wrong with ice cream!
I will refer to modern ice cream shops as ice cream bars. At ice cream bars, you are allowed to select the flavor of ice cream or ice creams you want. From there, you can choose the toppings that you want. Depending on where you go, you may have to pay for each topping separately, or the final price may be calculated from the weight of the final product. If you are paying by weight, the fruity toppings will make your final purchase cheaper. Unfortunately for me, I am a complete chocoholic, so mine are always more expensive—but they are always worth it! Basically, with modern ice cream shops, the main pro is that you are in charge of your order. You get to pick exactly what you want—no questions asked. The main con is that sometimes these shops lack in quality because of their vastness of ice cream and topping selections.
I have only been to a few vintage ice cream shops, but from what I have seen, you get an experience along with amazing ice cream. The waiters are dressed up like they're from the 50s and the whole shop is decked out like you just walked into a scene from Grease. Generally, you have to pick an ice cream creation that the shop already has on the menu, but they do not skimp on ice cream and toppings! Generally, vintage ice cream shops serve their creations in old-fashioned milkshake glasses or vintage glass bowls. It comes with mounds of ice cream and with the syrup pouring over the top and dripping down the side to make a pool of deliciousness on the plate below. A lot of vintage ice cream creations will also come with a baked good—cookies, brownies, cakes, etc. If the shop makes their baked goods in-house, then you usually have a winner. The main pro to vintage ice cream shops is that the quality goes up a notch from modern ice cream shops in the ice cream and presentation. The main con is that the ice cream generally comes in large portions that are pretty expensive, so you end up paying more money to oftentimes not even finish eating the delicious treat.
Granted, this opinion piece does come from my own experience, so go out there and try them both for yourself! Sometimes different moods call for different shops. If I just want a lot of cookie dough, sprinkles, marshmallows, syrup, and more on my ice cream, I'll just go to an ice cream bar. But if I am in the mood for a whopping amount of ice cream and a baked good that is simpler in its contents, then vintage ice cream it is!
Treat yourself to some ice cream today—you know you deserve it!
BY: ELIZABETH HANSEN
---
---