Get Pumped (and Prepped) for General Conference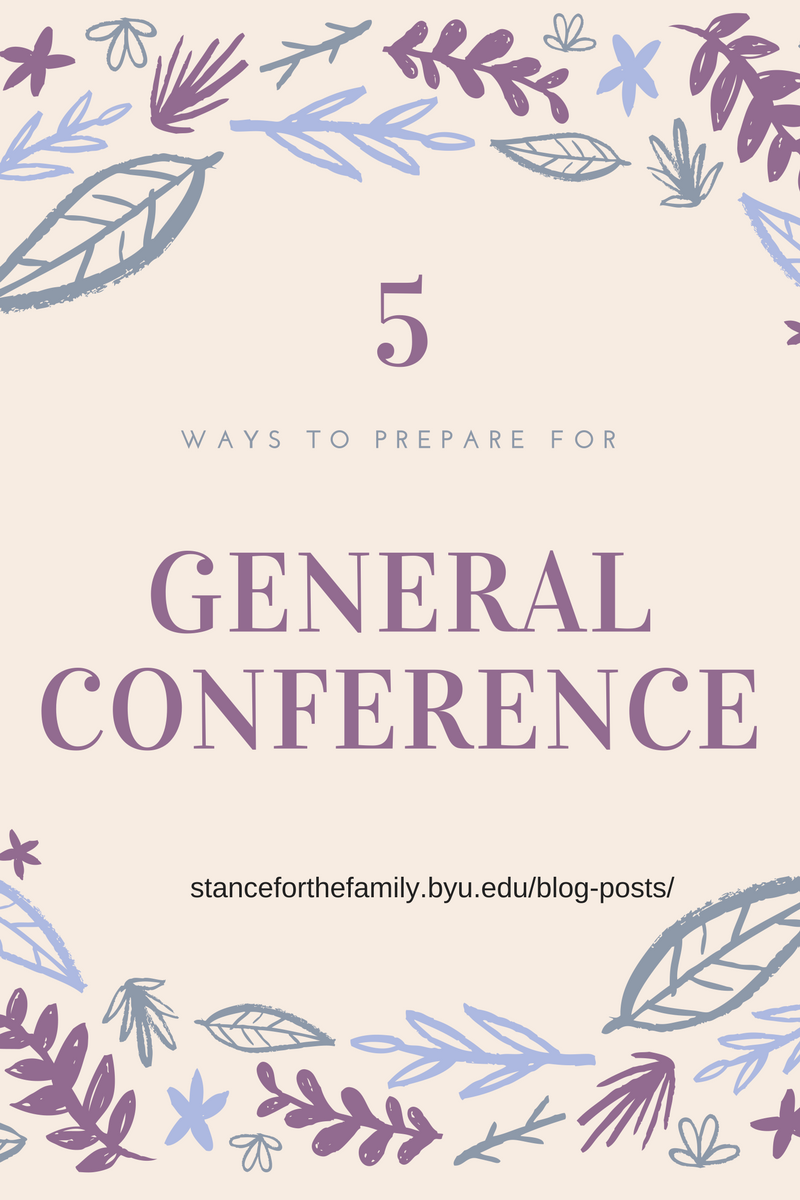 It's that time of year again, folks! Six months of sunshine and warm days are nearing an end as we say hello to changing leaves, all things pumpkin spice, and the excitement of a new school year and new possibilities. With fall on the horizon, General Conference is on its way! This year's October session schedule* is: 
September 30 at 6:00 pm: The general priesthood session for priesthood holders
September 30 and October 1 at 10:00 am. and 2:00 pm: The general sessions for individuals and families
*This schedule is set according to MST time*
With conference just a few days away, we thought we'd give you a few helpful suggestions to prepare for it. Being prepared and willing to feel and hear what the Spirit is saying to you is key to having an amazing experience!
1. Pray for questions and answers to those questions

Now I know this might sound silly, but if God knows everything, then He knows what we are struggling with now and what we will need help and guidance with in the future.  He will help if we're willing to listen! Praying to know what kind of topics to seek out for General Conference or what questions to ask Him (during any time of our lives) is a great way to practice listening to the still small voice as we search for answers.
Already feel like you have some questions that you would like some answers to? Take those to the Lord and ask for help in listening and understanding what each speaker is saying and how it relates to you and your questions personally.
2. Invite a friend
Do you home or visit teach anyone that is less active or a recent convert? Have you gone on a team-up with the missionaries lately? Do you have a friend that you think would really appreciate and benefit from the messages being taught? Do you have that one friend that is always down for a GNO or a bro's night? Feel free to invite someone to be uplifted and help them understand that they have a Father in Heaven who loves them. If you're inviting out of love, they will be honored that you asked them. (Plus, some ice-cream afterwards never hurt anyone.)
3. Bring a notebook and (your favorite) pen

Long ago, my EFY counselor told our group, "An open pen is a satellite to the Holy Ghost." I have carried those words of wisdom with me ever since. As you listen to these inspired talks, take notes on how you feel and the thoughts that come to your mind. You don't need to bother taking notes on what the speakers are actually saying because you can have your own copy of the talk in a few weeks. Just focus on the thoughts, feelings, and impressions that you receive.
4. Get a good night's sleep before conference so you can be awake and alert!
5. Study and ponder the scriptures, attend the temple, fast, and serve
These suggestions are all things we can do throughout the year so we can always have the Holy Ghost with us and be constantly prepared for General Conference. Study scriptures that relate to the questions that you are thinking about. If you can't attend the temple, walk around the temple grounds or go on a nice walk to admire all of God's creations and silently say a prayer of gratitude. Fast and ask for guidance on the questions you are pondering. Service is a great way to show our Heavenly Father how much we love and appreciate Him and all of our brothers and sisters.
If you would like, here are all of the talks given in last April's session of General Conference. Staying up to date on the words of the Lord's anointed servants is always a good way to prepare for conference (and life!).
For many of us here at Stance, General Conference is one of the most wonderful times of the year. We hope you prepare to receive and enjoy all that our Prophet and Apostles have to say to us. Feel free to share your experiences on how prepping for General Conference helped you this year!

For more tips on prepping for this weekend, check these out:

– A Family Home Evening lesson all about general conference
-General Conference activities for children
 BY CARLY CALLISTER
---
---