The Stadium Farmers Market—Something for Everyone!
by Alissa Holm
The start of school brings not only students back to the BYU campus, but also many vendors to the annual Farmers Market at LaVell Edwards Stadium.
Every Thursday until October 25, about 25 vendors will fill the south parking lot of the stadium to sell their best fresh fruits and vegetables, crafts, and other local creations. This week, I attended the market and got a taste of the great products our local vendors have to offer.
Walking up and down the row of vendors, I couldn't help but be impressed by the variety of local goods produced by our fellow Provo citizens. I saw everything from freshly popped kettle corn, to a tabletop football game, to homemade pies, to fresh fruit grown literally just down the road.
A Talk with a Vendor
I took some time during my first visit to speak with Sara Potter, baker and owner of "My Cutie Pies," a small business that sells personal-sized pies. Sara has mastered the art of pie baking over the last seven years and turned her talent into a small business just over a year ago. She bakes personal-sized pies in flavors such as blueberry banana cream, apple, pumpkin, and raspberry and sells them for $3.50 each week at various farmers markets. Prior to each selling day, she spends a grueling twelve hours baking her pies. Sara says that baking the pies allows her to do what she loves and also to make a little extra money on the side.
Is It for Me?
Curious to see what it takes to become a vendor like Sara, I asked her what it was like to start her own small business. She says her expenses can get pretty high—for pie making, berries are her most expensive ingredients. There are also several startup taxes and fees associated with starting such businesses. But Sara did mention that this type of business might be good for other young married wives and mothers out there—Sara is a former student, but her husband is still in school. If your product is marketable and profitable, you could find yourself bringing in a good amount of money just from selling weekly at the Stadium Farmers Market.
I would highly recommend the Stadium Farmers Market to anyone. The experience is one you won't regret, and you'll be surprised with all that it has to offer. Who knows—you might just end up wanting to create your own station!
For More Information:
Additional information about becoming a vendor at the Farmers Market can be found here.
The vendor application form can be accessed here.
Several delicious recipes from the BYU Dining Services demo booth at the Market are listed here. Happy cooking, families!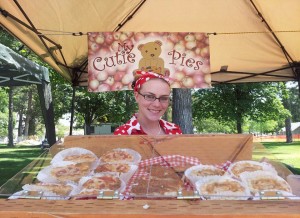 ---
---