A Non-Traditional Thanksgiving Tradition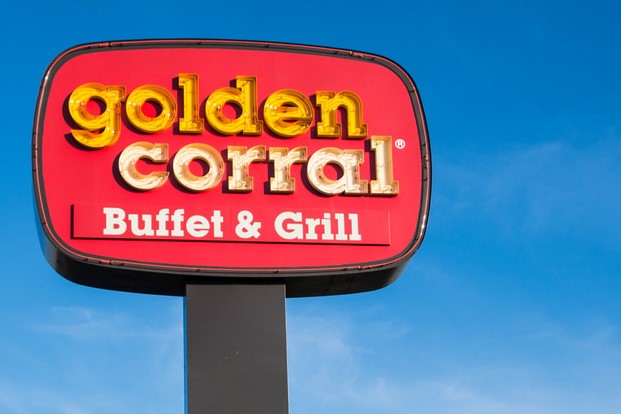 When I was in high school, my parents went on a low-carb diet. It turned out to be great for them, but it was kind of disappointing for my sister and I because it meant my mom stopped cooking the delicious comfort foods we had grown up with.
Okay, I guess a person can live like that. But not me—especially because my favorite holiday has always been Thanksgiving—the holiday of carbs, pretty much. I had been known for taking everything on my Thanksgiving plate and making it into a big delicious sandwich on my roll. It was great.
Anyway, that first Thanksgiving rolled around, and my mom decided she wasn't going to slave away in the kitchen all day making delicious foods that she couldn't eat.
But she knew my love for Thanksgiving, and she didn't want to just throw away the holiday, so we started a new Thanksgiving tradition. We decided that we'd all go to Golden Corral, and my sister and I would eat all the carbs we wanted, and my parents would stick to the meat and vegetables.
It. Was. Great.
Granted, it didn't have all the cherished family recipes, but it had some pretty darn good mashed potatoes and gravy, and the turkey was nice and moist.  And on top of all that, it had cotton candy.
So for the next three years before I left for college, we went to Golden Corral for Thanksgiving, and we took a picture every year of me eating cotton candy, because I'm a dork.
We always had a really great time on Thanksgiving, and the point is that it doesn't matter what you do for Thanksgiving. The point is that whatever traditions you have, no matter how "traditional" they may or may not be, you can always have fun while you spend time with your family and think about all the things you're grateful for.
This Thanksgiving, I'm thankful for my awesome husband and the time I get to spend with his family, participating in their Thanksgiving traditions. I'm thankful for my Heavenly Father who has given me all of the wonderful blessings I usually take for granted. Oh, and I'm really grateful, too, for carb-a-licious food.
BY CARI AVERETT
---
---