Killer Recipes: Cheesy Garlic Swirls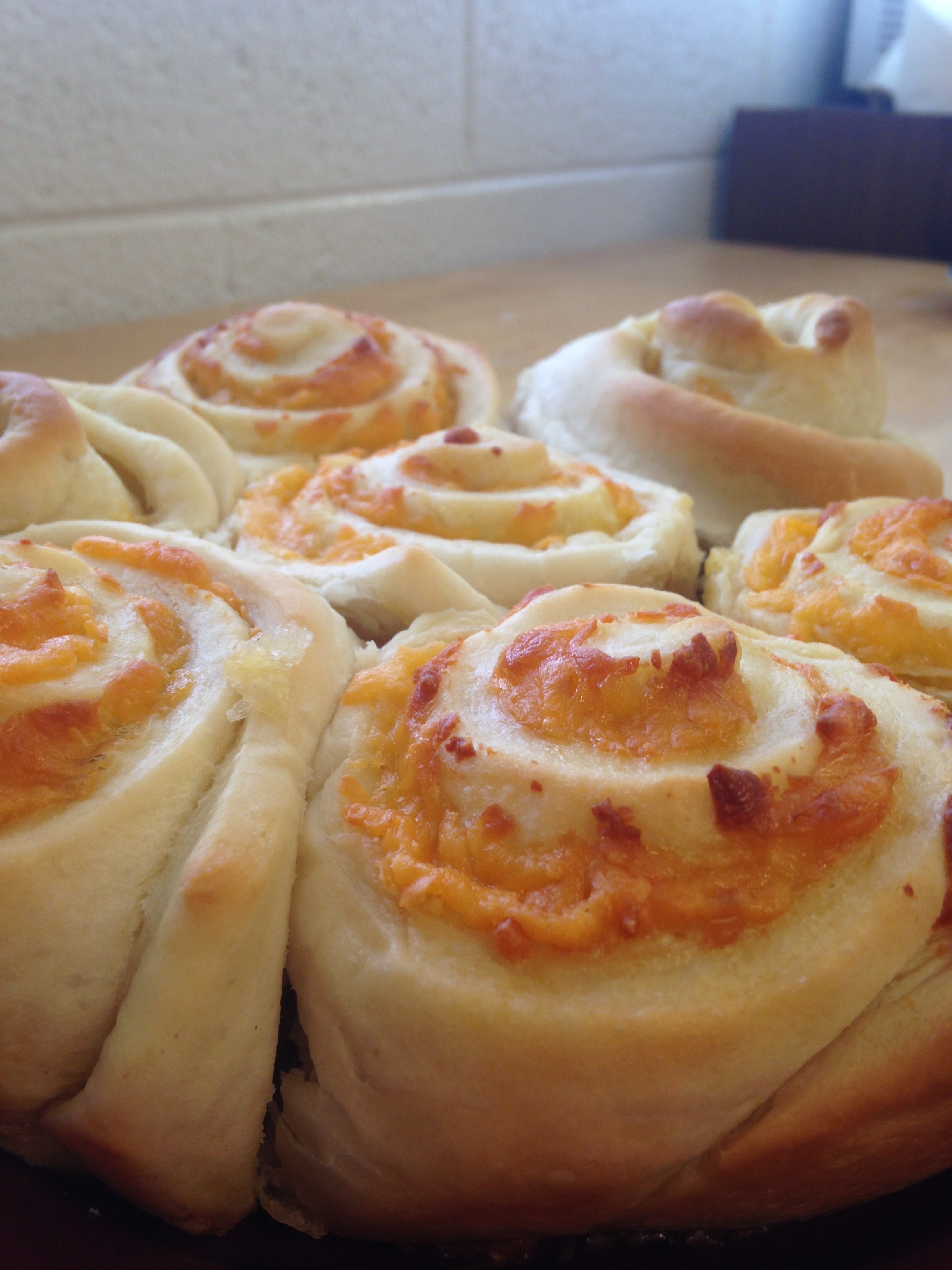 My family and I love these rolls; and the best part is, they're super easy! I whip them up whenever I want to impress people with my cooking skills, but don't want to stress about it. Bread, butter, cheese, garlic—mmm. You cannot fail with this recipe. Seriously, just take a look at that photo; no filter, no editing whatsoever—that is the true form of deliciousness.
Ingredients:
1 bread dough recipe (You can use any bread dough.  I usually use half a recipe of the bread dough featured on this blog a few weeks back. Alternately, I've also used rolled-out Rhodes Dinner Rolls freezer dough—just use what you have time for.)
½ cup butter
1 ½ tbsp garlic salt
1 ½ cups shredded cheese (You can use any cheese you want, really. I'm a fan of using classic cheddar, but I've also used mozzarella and it is just as divine.)
Directions:
Allow your bread dough to rise.

While the dough is rising, combine softened butter and garlic salt.

Spray your work surface with cooking spray, and roll the dough into an 18×6" rectangle (or do your best). Smear butter and garlic mixture evenly on the dough and sprinkle with cheese. Roll the dough up along the long edge to make a long tube of goodness.

Use dental floss to cut it into individual rolls. I like to start in the middle of the tube and cut each piece in half until I have roll-sized pieces.

There are two options for baking. You can place the rolls into a greased 10" pie plate, which works fine, but if you're making a full recipe, I highly recommend putting each roll in a greased muffin tin. This way they stay contained, and they're actually easier to serve and eat.

Cover your rolls with a clean cloth and allow them to rise while the oven is preheating to 350°. 7. Bake for 20–25 minutes. If the tops are starting to look done before the rest of the rolls are done, cover them with aluminum foil and put them back in the oven.
 BY CARI AVERETT
---
---