A Wonderful Kind of Day: Diverse Parenting in "Arthur"
Do you ever find yourself over-analyzing your favorite shows from childhood? If so, then this post is for you. Today I'll be looking at the different parenting styles of three of the families in the popular PBS kids' show "Arthur."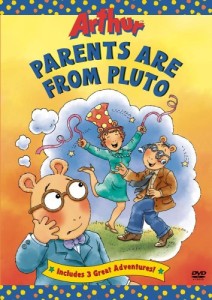 Arthur's Parents:
As David and Jane Read are the parents of the titular character, they get the most screen time. The Reads don't have time for archaic gender roles—David is a caterer and Jane is an accountant. Both of them share household tasks and can be seen in different scenes doing dishes together and trading off cooking meals. It doesn't just fall to Jane to sort out all the problems with the kids; David is just as involved in Arthur and DW's lives as Jane is. The Reads tuck their children into bed at night and take them on trips every year. They are involved in their kids' lives without being helicopter parents.
Buster's Parents:
Buster is the only main character to live in a single-parent household*.There's even a whole episode devoted to Arthur trying to fix Buster up with an assortment of dads for the Father's Day Picnic. (I do a write-up of this episode here for anyone interested.) Despite this perceived disadvantage, Buster is as well-adjusted as any of his friends. He and his mom have a close relationship and do everything together. There are some especially interesting episodes when Bitzi (his mom) starts dating and Buster has to come to terms with it. Bitzi talks to him through the whole process and makes sure that he is okay with the way things are developing. At times Buster's mom comes off as anxious and hovery (especially in "Arthur's Perfect Christmas"), but Buster realizes that she feels like she has to do everything perfectly since she's raising him alone. They clearly love each other and are patient with each other in their circumstances.
Francine's Parents:
You don't see as much of the Frenskys as you do the Reads or the Baxters, but Francine's home life is still worth considering. If Francine has a problem, she usually figures it out herself or talks it over with Muffy or Catherine (her older sister). On the rare occasions where she does turn to her parents for help, though, it's usually her dad she talks to. Francine isn't as well off as her friends (a sore spot between her and Muffy), but her dad makes sure that she knows that money isn't as important as family. "What would I do with more money?" he asks. "Could I buy a better family?" Mr. Frenksy's light-hearted attitude toward his children is one that more people should strive to have.
In sum, this broad sweep of parenting styles and tactics shows that A) there's no one right way to raise children and B) there are plenty of things to learn from a world where aardvarks, rabbits, and monkeys can be friends.
*I'm counting Prunella and Fern as secondary characters and don't tell me that Fern's had a dad this whole time, PBS, the man's been missing for fifteen seasons you can't just sneak him into an episode, pretending he was there the whole time, and think I won't notice.
—Becca Barrus, Stance
---
---