Christmas Treats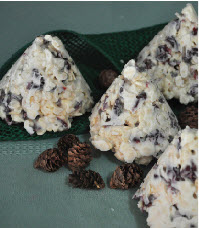 Our friends at Familius sent over some more Christmas recipes for you to enjoy over your holiday break. Try these ones out!
Christmas Buns
Christmas buns are a tasty way to start your Christmas morning traditions! You can make them ahead the night before, or use your bread machine to create the dough for less prep time on Christmas morning. Get more recipes, crafts, poems and Christmas stories in Christmas Anthology: Just for Kids.
Ingredients:
1 1/2 tablespoons yeast
1/2 teaspoon sugar
1 1/2 cups water
2 eggs
1/2 cup sugar
1/2 cup oil
2 teaspoons salt
4–6 cups flour
Jam, jelly, or preserves
1 stick butter, melted
1 beaten egg, for egg wash (optional)
Directions:
1. Dissolve the the yeast and 1/2 teaspoon sugar into 1 1/2 cups water, and allow to sit until foamy.
2. In a separate bowl, beat eggs until fluffy, and then add 1/2 cup sugar, 1/2 cup oil, and 2 teaspoons salt.
3. Add yeast mixture to dough mixture.
4. Add 4 cups of flour and mix well. Add more flour as necessary until a cohesive but slightly sticky dough forms. (You will add more flour when you roll the dough out.)
5. Cover the dough, and let it rise until doubled in bulk (a couple of hours).
6. On a floured surface, roll the dough out to 1/4–1/2-inch thick.
7. Using a pizza cutter, cut the dough into approximately 2-inch by 2-inch squares.
8. Place a teaspoon or so of jam in the center of each square.
9. For each square, gather two opposite corners and pinch together. Then gather the other two corners. Gather in the folds until you've created a round bundle with no open seams.
10. Brush the bundled rolls with melted butter and place them in a 9 x 13-inch pan. (You may have enough extra dough to fill a smaller pan as well.)
11. Cover the pan(s) and allow to rise for 30 minutes.
12. Preheat the oven to 375 degrees
13. Before placing the rolls in the oven, brush them with the beaten egg wash (optional).
14. Bake the rolls for 10–12 minutes, until golden
White Chocolate Trees
These trees are like dressed up Rice Krispies treats and can double as a centerpiece on your holiday table. Get more recipes, crafts, poems and Christmas stories in Christmas Anthology: Just for Kids.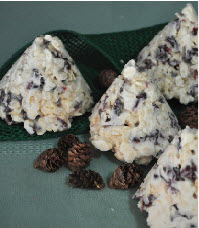 Ingredients:
12 ounces white chocolate
2 cups puffed rice cereal
1 cup dried fruit of choice (cranberries work well)
1 tablespoon vegetable oil
15–17 circles of parchment paper, each approximately 4 inches in diameter
Directions:
1. Fold each circle of parchment paper in quarters. Then unfold one flap to make a cone shape. Secure paper in cone shape.
2. Combine the white chocolate and the vegetable oil and melt in the microwave. Start with 30-second intervals on high and stir afterwards. Continue with short intervals until the chocolate melts and stirs smooth.
3. Pour the chocolate over the puffed cereal.
4. Add the dried fruit, and stir until everything is well coated with chocolate.
5. Spoon the mixture into the parchment paper cones.
6. Allow to cool at room temperature for a few minutes, then place the cones open-side down on a lined cookie sheet and place in the refrigerator or freezer until completely cooled.
---