Microwave Christmas Fudge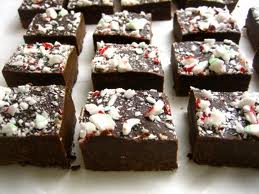 by Janai Skiles
Try out this easy Christmas fudge. The best part is, you don't even have to turn on the oven. This fudge can be made right in your microwave.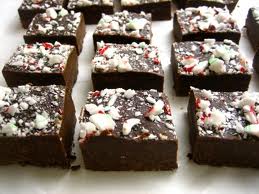 Ingredients:
3 cups semi-sweet chocolate chips
1 14-oz can condensed milk
1/4 cup (4 tbsp) butter
1 tsp vanilla extract
1/4 tsp salt
1 tsp mint extract
3 crushed candy canes
Directions:
Prepare an 8×8 pan by lining it with aluminum foil and spraying the foil with nonstick cooking spray.
In a large microwave-safe bowl, combine the chocolate chips, condensed milk, and butter. Microwave in one-minute increments until melted (about 2-3 minutes).
Stir to ensure all the chocolate is melted then add the vanilla, mint, and salt. Stir until the candy is smooth and well-mixed.
Pour the fudge into the prepared pan and smooth it into an even layer. Add crushed candy canes on top.
Place the fudge in the refrigerator to set for at least 2 hours. Once set, cut into 1-inch squares and serve at room temperature. Store excess fudge in an airtight container in the refrigerator.
---