Family History Work: Your Work
by AmberLee Hansen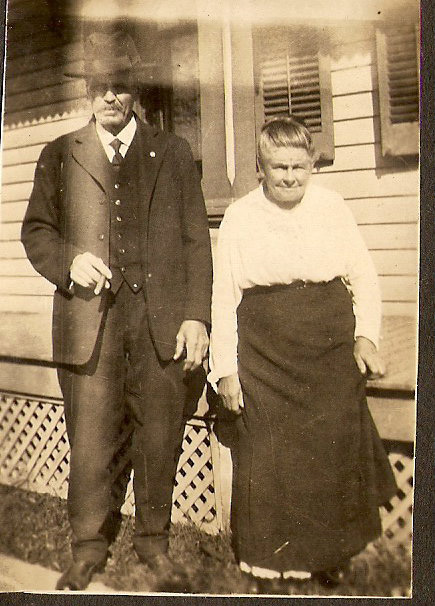 It was all over rather quickly for William Morrow, as quickly as a noose breaks a person's neck. Whether or not any of his family was present for his last few moments on Earth is unknown, but if they did gather, several members were notably missing. William's father, Robert Morrow, and his brother-in-law, Dr. Peter Bellamy, were still in prison awaiting a trial and verdict for the same crime William had just hung for.
My heart stopped when I read those names: Robert Morrow and Peter Bellamy. Peter Bellamy is my ancestor, and he was being tried for murder. And not just any murders. These men were being tried for murdering former slaves—perhaps even their own.
Family History Work Strengthens Individuals and Families Still on Earth
For almost a year after I found the newspaper article detailing the story of my ancestor's murder trial, I had some pretty strong and conflicting emotions that I struggled to reconcile. Peter Bellamy didn't just help kill someone—he helped kill a former slave in the aftermath of the Civil War. My ancestor was a murderer and a bigot. So what did that make me? It was hard for me to reconcile my modern viewpoint of right and wrong with the decisions Peter Bellamy made in the past. Not that I thought his actions made me a bad person, but he is my family member, and I didn't want to believe he was a bitter, vindictive man out to make former slaves pay for the abolition of slavery.
Experiences like these can open our eyes to the fact that our ancestors are real people. They had lives and stories, they made mistakes, and they lived and breathed just as we do now. Too often we hear the words "family history" and think of a bunch of tombstones, pedigree charts, or empty names without faces. We don't often think of them as youthful, as teenagers, as mothers, fathers, and friends—but they were. They lived lives that were so different from ours—whether it was during the Civil War, the Roaring '20s, or Women's Suffrage—yet they aren't so estranged that we can't understand them. It's interesting to see the similarities and differences between their lives then and our lives now. By doing family history you get to know your ancestors more intimately than before and relate to them in ways you never thought possible.
After struggling somewhat with the concept of a murdering, bigoted ancestor, I decided I couldn't pass judgments on the past; I couldn't judge my ancestors' actions any more than I could judge my siblings' or parents'. I decided to forgive my ancestor and try to live a life that would make him pleased to call me family. Elder Russell M. Nelson once said, "While temple and family history work has the power to bless those beyond the veil, it has an equal power to bless the living. It has a refining influence on those who are engaged in it. They are literally helping to exalt their families." I believe that applies not only to our deceased families, but that as we are refined, we are also helping to exalt our living families. In my life, I have helped to exalt my living family as I've learned (from my family history research) to be more tolerant and forgiving, to be patient and loving whether I agree with decisions they made or not (although I am by no means perfect). I can love like the Savior loved without condoning their choices. And hopefully they will be as patient with me.
There is Work for You to Do
I can almost hear some of you saying, "That's all fine and good, but the family history work for my family is all done. There's nothing left to do." And I believe you firmly believe it. But if you have the desire to serve in God's kingdom, He will show you where you can serve. And for the vast majority of you, it will be amongst your own family members in your own family tree. We've been told that our work is not done until we've presented a book of all our dead to the Savior and He has deemed it worthy of all acceptation (see D&C 128:24). Until that happens there is work for you to do.
When I first logged on to New FamilySearch to look at my family tree, blue check-marked temple icons speckled the screen. It looked like all of the temple work was done for my family, if not back to Adam then to someone close to him. Okay, so I won't do temple work, I thought, I'll just figure out who these people were. So I did. I found Peter Bellamy, the one being tried for murder. As I researched his life and discovered his story, I found that it included children—children that weren't listed in New FamilySearch. Because I was willing to put forth the effort to start, the Lord helped me find a place in my tree where family members had been overlooked, and I was able to take their names to the temple.
In his October General Conference talk, Elder Scott promised, "Anywhere you are in the world, with prayer, faith, determination, diligence, and some sacrifice, you can make a powerful contribution. Begin now. I promise you that the Lord will help you find a way."1
Family History Work is Hard Work, but Worth It
I was recently helping a student with a homework assignment for her family history class when she said dejectedly, "This is hard." I wholeheartedly agreed. It wasn't easy to find the newspaper article recounting the events surrounding Peter Bellamy's murder trial; I didn't find it until after I had put in several hours of research. It can be difficult to read handwritten records from the 1800s, time consuming and dull to create source citations for your information, and frustrating to spend a good chunk of time searching for a record just to end up empty-handed.
But don't stop reading! While family history is by no means an easy project, keep in mind that meaningful projects are not easy—they take sacrifice. Think of the most fulfilling thing you've ever done in your life. What made it so fulfilling? The minimal effort it took to accomplish? Or the effort and sacrifice it took to do it well? Elder Scott acknowledged that family history is hard work but promised blessings that will make our time worth it: "This work is a spiritual work, a monumental effort of cooperation on both sides of the veil, where help is given in both directions. "Anywhere you are in the world, with prayer, faith, determination, diligence, and some sacrifice, you can make a powerful contribution. Begin now. I promise you that the Lord will help you find a way. And it will make you feel wonderful."2
Elder Scott called family history a "monumental effort," but then, we're supposed to be "anxiously engaged in a good cause" (D&C 58:27), right? Work is a principle of the gospel. But if that isn't enough to motivate you, consider the powerful blessings associated with family history work. Elder David A. Bednar promised, "As you respond in faith to this invitation, your hearts shall turn to the fathers. The promises made to Abraham, Isaac, and Jacob will be implanted in your hearts. Your patriarchal blessing, with its declaration of lineage, will link you to these fathers and be more meaningful to you. Your love and gratitude for your ancestors will increase. Your testimony of and conversion to the Savior will become deep and abiding. And I promise you will be protected against the intensifying influence of the adversary. As you participate in and love this holy work, you will be safeguarded in your youth and throughout your lives."3 So "be ye strong therefore, and let not your hands be weak: for your work shall be rewarded" (2 Chronicles 15:7). There are multiple blessings promised for just getting to know your family. What have you got to lose? And remember: don't neglect your own history. You have a story—keep a journal and stay in touch with family. Take pictures and keep your records in a safe place. Doing so will make family history easier for your descendents.
Conclusion
I don't know about you, but one of the reasons I do family history is to find out the stories of my ancestors. I feel like each of them has contributed to shaping me, and by discovering who they were I have discovered small pieces of myself. Even stories like Peter Bellamy's are worth discovering because they teach us to forgive, help us to be compassionate, and keep us humble. So . . .  "what about you? Have you prayed about your own ancestors' work? Set aside those things in your life that don't really matter. Decide to do something that will have eternal consequences. . . . I promise you that the Lord will help you find a way. And it will make you feel wonderful."4
Notes
1. Richard G. Scott, "The Joy of Redeeming the Dead," lds.org, http://www.lds.org/general-conference/2012/10/the-joy-of-redeeming-the-dead?lang=eng; emphasis added.
2. Ibid.
3. David A. Bednar, "The Hearts of the Children Shall Turn," lds.org, https://www.lds.org/general-conference/2011/10/the-hearts-of-the-children-shall-turn?lang=eng.
4. "Elder Scott Urges More Involvement in Family History and Temple Work," LDS News Room, 7 October, 2012, http://www.lds.org/church/news/elder-scott-urges-more-involvement-in-family-history-and-temple-work?lang=eng.
---