Meet Rachel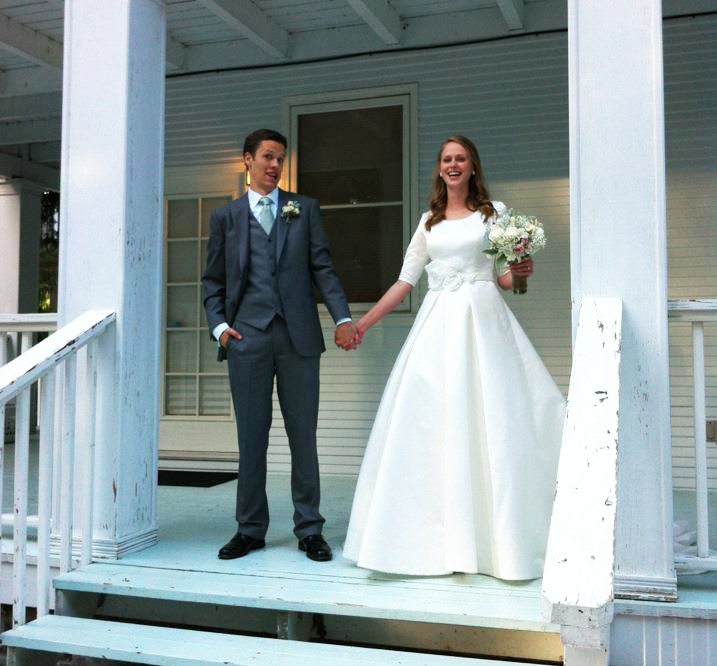 Ben and I had the whole shebang—the dress with an unmatchable flowered belt, the gray three-piece suit, the soft white and pink flowers, and the food. Tri-tip sandwiches, horseradish dip, and roasted vegetables—we lucked out.
I got married when I was 20 years and 364 days old. And I couldn't have asked for a better birthday party. Family and friends spending the entire evening talking, dancing, and eating under hundreds of twinkling lights hanging from the branches of the evergreen trees. It was the best party I have ever been to.
But even better than the gorgeous reception was the ceremony. The absolute best part of May 25th was becoming a part of a brand-new family. Ben and I were thrilled. (And eight months later, we still are.)
When we decided to get married, our families were delighted and our engagement announcement on Facebook got 105 likes. But in addition to the familial joy and social-media merriment, people outside of our closest circles expressed some concern about our age. Many of our acquaintances were telling us, "You are too young, live a little." (Well, most of them actually said things like, "How old are you?" and "You seem so young," but we all know what they really meant). Perhaps they saw our engagement as a frivolous and immature fling or an action showing our all-too-earnest desire to be grown-ups. But Ben and I choose to be married because we love each other and we believe in the power, and joy, and peace that comes from the institution of the family.
We believe in families
And, we believe in our family.
So, that's why I'm here, starting my journey as one of two brand-new senior editors for this blog—a blog for all things family. I am looking forward to spending the semester with you and sharing recipes, pictures, reviews, discussions, and all things wholesome.
Three cheers for family, great stories, and fantastic ideas.
---
---