How to Pick the Perfect Gift
Over the year and a half that I have been married, I have struggled to find my husband the perfect gift. It has taken me a while to figure out the art of giving a great gift.
Recently, I think I figured it out. I got him tickets to a basketball game. He is a giant U of A fan, and because we live up in Utah currently, I got him tickets to the University of Utah vs. University of Arizona basketball game. His eagerness and anticipation for this game was remarkable to me because I don't know a thing when it comes to basketball.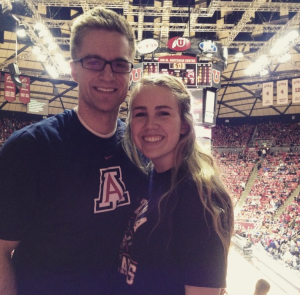 We went a couple weekends ago, and man oh man. The smack talking, the cheering, the dancing, and the intensity were SO worth it—especially to have an incredibly grateful and happy husband at the end of it. It felt so good to have given him a gift that he loved, even if it wasn't necessarily what I loved to do.
So how do you pick the perfect gift? I've compiled a few different questions to ask yourself that will help solve your gift picking woes.
What shows does he/she like?
Is your friend OBSESSED with Modern Family? Friends? The Office? Is it on Netflix? Do they have Netflix? If not, think about getting them the DVD of a season. They'll love it! Or you can always get them some awesome gear that they can flaunt and also probably make them laugh or smile when they see it.
Are they into any sports?
This definitely worked to my advantage a couple weeks ago. Tickets to a game are always fun, but can also be pricey. If you can't do that, try some nosebleed seats or some sports merchandise.
Do they have money?
This isn't always the most thoughtful gift, but sometimes it is definitely appreciated and they could use it more than that BYU cup. Are they newly married? In college?  Struggling financially? They could absolutely use those bucks right now.
Do they have pets or kids?
Some people prefer to have something for their kid or their pet before themselves. A new chew toy? Doggie bed? Or how about some easy lunches for the kids or some coupons for free babysitting. This just might save your wallet some money, too.
Do they prefer homemade gifts?
Sometimes, people want something more sentimental, more thought out and made from the heart. Have any talents with knitting, sewing or crocheting? A hat or scarf could make someone's day. Or how about a collage of pictures or a book of your relationship with that person? My mom once turned my blog into a book and it meant the world to me! It had pictures and loads of memories for me to enjoy.
Do they NEED anything?
Think about it. Do they have a cracked windshield they just can't afford to get fixed? They keep talking about how they need a new pair of black shoes for work? Can you fix things? Offer to fix their leaky sink, dishwasher or change out their light bulbs. Simple acts like these can make someone's life so much easier.
What kind of food do they like?
I think that food is always a good thing to pair with anything. Do they like sweets? Chocolate? Candy bars? Stick some of that with you gift and you're good to go. Or give them a gift card to their favorite restaurant- they'll be happy that they can splurge without breaking the bank. If you're feeling extra thoughtful, try making them their favorite foods. That can go a long way for someone.
I hope these questions can help you pick the perfect gift! For more posts like these, follow us on Facebook, Pinterest and Twitter! Please like and share!
Emmaline Frost, Stance
Questions courtesy of allwomenstalk.com.
---
---