Kids Find Connections in Writing Family Biographies 
After my posts about helping kids write in journals, I've had another writing activity for kids on my mind—writing family biographies.
Last year, I wrote a biography on my great-grandfather, Rockwell Albert Davis. I hadn't imagined the work it would require—interviewing family members, clicking through newspapers and yearbooks archived online, finding photographs in our family files, not to mention writing—but the outcomes made my work worth it.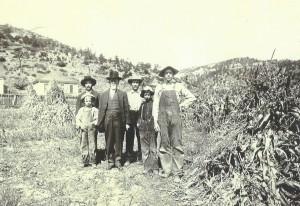 Writing the biography, I learned about historical events such as World War II, the Great Depression, and the statehood of New Mexico. I found personal connections—I realized that I share his birthday, and I am going to be an elementary school teacher like his wife, Mary, was. The best reward came when I received kind letters of thanks from distant relatives who had read the biography. I felt closer to all of my family on my dad's side.
Kids can also learn about history, find connections, and feel close to their families as they participate in this family history centered activity.
With a little help from parents, kids can begin writing a biography:
Choose a family member. If research on a deceased family member isn't possible, focus on the living. Does Grandma Jane tell great stories? Does Cousin Fred have a lot of photo albums? Does Aunt Lily or Uncle Phil love to talk? Parents can ask the family member for permission for kids to proceed.
Prepare questions. Start with just a few questions about important events in that person's life. Find a list of questions here or check out a simple graphic organizer from TIME for Kids:
Hold the interview. Speak in person, call, or videochat with the family member. Help kids audio-record the interview. Kids can assess what they have and decide if they want to set up another interview to ask more questions. 
Write the biography. Parents can help kids put responses in chronological order. If kids know how to type, they can begin writing, or parents can lend a hand. Remember the stages of prewriting, drafting, revising, and editing? Guide kids through the writing process for a more orderly biography, or settle for a more simple write-up.
If parents are also interested in writing biographies, the Ensign magazine offers a detailed how-to on biography writing.
—Leah Davis Christopher, Stance
Photo in possession of author, Word cloud created on WordItOut, License: CC-BY-NC-ND 
---
---