Paper Submissions: Information
Our student journal, Stance: Studies on the Family, is associated with Brigham Young University.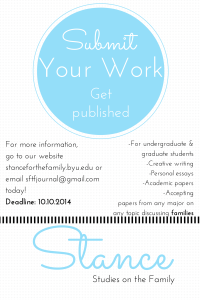 What are we looking for?
We are looking for creative writing to academic papers to personal essays. Submit to Stance: Studies on the Family today!
Send us your work in these 4 easy steps:
1. Pick your academic paper, personal essay, creative writing, etc. Send as many submissions as you want. Just include the number in the subject of the email. (See point #4.)
2. Fill out Submission Form. If you cannot see this form, you will most likely need to update Adobe. If that still doesn't work, you will need to include the following information in the body of your email:
Name
Email
Phone #
Major
University
Undergraduate / Graduate student
Year in school
Paper's title
Abstract
3. Email sftfjournal@gmail.com: include your submission (preferably a Word document) + information from the submission form
4. Email's subject line: "Last name, First name, Stance Paper Submission # ___"
DEADLINE: Submit by 10/10/2014 at midnight. If you have any questions, please email us ASAP.
Thank you. We can't wait to read your submissions for Stance: Studies on the Family!
---
---