Running the Pioneer Day 5K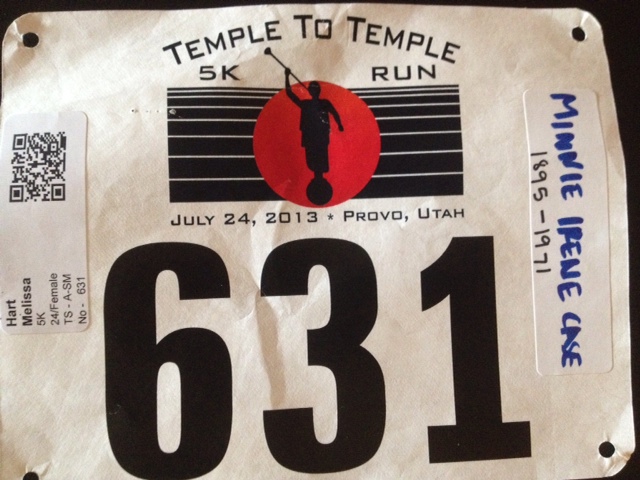 by Melissa Hart
Five. . . four. . . three. . .two. . . bang! The gun fired and the Pioneer Day Temple to Temple 5k began. I ran along the 5k route, happy to be running, loving the atmosphere of the race, and very aware of the little extra tag on my bib number that read "Minnie Irene Case."
As part of the Pioneer Day race, we were encouraged to run for one of our ancestors. While my great grandma Minnie wasn't a pioneer who actually crossed the plains with a covered wagon or handcart, I had learned enough about her to know that she was definitely a pioneer—a strong woman who supported her small family by teaching piano lessons and who raised my angel of a grandmother—just in a little different sense of the word.
I ran past the "landmarks" set up along sides of the Provo streets, Chimney Rock, Scott's Bluff, Fort Laramie, and was reminded of the first time I followed a path carrying an ancestor's name with me. It was a pioneer trek reenactment when I was a teenager, and the ancestor's name that time was Julia Ann Phippen, Minnie's great granddaughter (my great-great-great grandmother). Julia did cross the plains with a covered wagon, just a young girl at the time. The story I love most about her was when she convinced her father to let her pick flowers along the trail and her red calico dress caught the attention of the Indians. After holding up all the fingers on one hand, showing her father just how many horses he was willing to trade for the girl in the red dress, the Indian brave rode away, disappointed and confused. What a different life I would have if that Indian had been successful!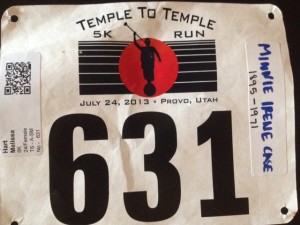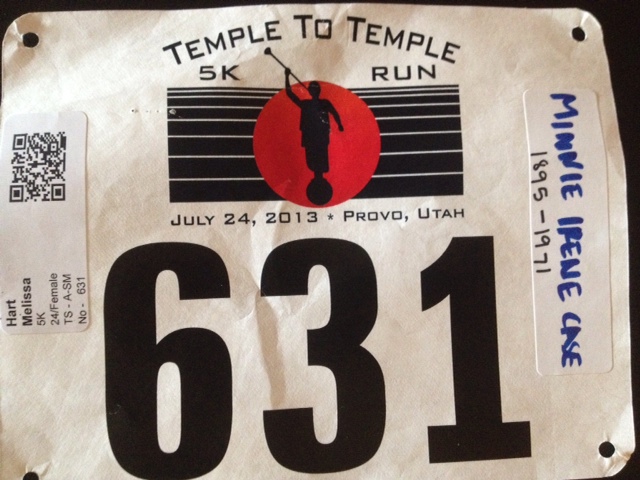 I neared the next landmarks, Independence Rock, Martin's Cove, Rocky Ridge, and continued running with the throng of people celebrating the heritage of Utah. Our mini 5k Pioneer trail was nearing the end—South Pass, Fort Bridger, Emigration Canyon, with the Salt Lake Valley just ahead. As I entered the Salt Lake Valley, I'm sure I didn't feel nearly as relieved as Julia and my other pioneer ancestors, but I did feel a great sense of accomplishment. Not only for finishing the race, but also for becoming closer to my ancestors. I still don't exactly understand why, but carrying Minnie's name with me that day was an honor, not just a mindless action without any meaning. It was subtle, a very quiet feeling, but it confirmed to me that every action that I take to know my ancestors impacts my life. If I were to attempt to explain it, I'd probably get it wrong. But maybe it's just a tiny bit of the gratitude I should feel for those who came before me finally getting into my heart
.
---