Sharing the Tradition: Recipes for Homemade Thanksgiving Pies
by Alissa Holm
Every year, my mom bakes between 5 and 10 pies of all flavors the day before Thanksgiving. In our family, pies are more than just a dessert—they're a tradition. Nobody knows how to make pie better than my mother, so I've snuck into her secret recipe vault to uncover the best recipes for the two most classic, American, Thanksgiving pies—apple and pumpkin—and added to them her famous crust recipe.  Bon Appétit!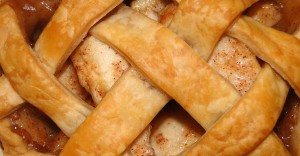 PERFECT APPLE PIE
6 to 8 tart apples, peeled, cored, thinly sliced (6 cups) (Granny Smith & Golden Delicious are best – salted)
3/4 to 1 cup sugar
2 Tbsp. all-purpose flour
1 teaspoon cinnamon
Dash of nutmeg
Pastry for one double crust pie
2 Tbsp. butter
(If apples are sweet, sprinkle with 1 Tbsp. lemon juice.)
Mix dry ingredients into apples. Line 9-inch pie plate with pastry. Fill with apples, dot with butter. Moisten the crust around its top edges so the top crust will adhere.
Cut designs into top crust and lay it over apples; press top and bottom crusts together & crimp edges. Sprinkle with sugar, bake at 375–400 degrees for 40 to 50 mins., until done.
TAWNY PUMPKIN PIE
1 1/4 cup cooked or canned pumpkin or winter squash
3/4 cup sugar
1/4 tsp. ground ginger
1/2 tsp. salt
1 tsp. cinnamon
1 tsp. flour
2 eggs, slightly beaten
1 cup evaporated milk
2 Tbsp. water
1/2 tsp. vanilla
1 unbaked (9") pie shell
Combine first 6 ingredients; mix well; add eggs. Mix; add evaporated milk, water, and vanilla; mix well. Pour into pie shell. Bake in 400–425 degree oven for 45 to 50 minutes, until knife or toothpick inserted in center comes out clean. To keep crust edges from burning, gently cover with strips of aluminum foil.
BEST PIE CRUST
(makes 4 single crust pies; 2 double crust pies )
4 c. flour
1/2 cup ice water
1 Tbsp. sugar
1 Tbsp. white vinegar
2 tsp. salt
1 egg
1 3/4 cups shortening (chilled)
Hint: A secret for good pastry is to have all ingredients as COLD as possible. Crumb dry ingredients & shortening until the size of peas. Whip the egg, then stir in water and vinegar; stir into flour mixture a little at a time until it sticks together. (Handle as little as possible.) Divide into 4 equal parts; roll out between wax paper or layers of plastic cereal bag (bag works best!).
---