The Sloshen in the Ocean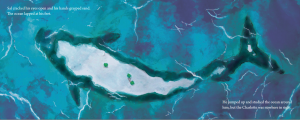 The Sloshen in the Ocean, written by Chelsea Jamison and illustrated by Spencer Bugg, is a delightful children's book that was accepted by Stance for our Fall 2014 issue. Unfortunately, it was not able to be placed in the printed version of the journal. However, we have placed it on our Issuu account for all of us to enjoy.
The story follows the adventure of a boy on the high seas, where he learns that opening up to someone different can lead to great friendships. A fun story about understanding and adventure that all children will love!
---
---