Top 5 Places to Eat in Provo/Orem . . . After Hours
by Alissa Holm
Every college student has experienced that moment: You're starving. It's midnight. Everything seems to be closed. So what do you do? Eat another bowl of cereal? Run to McDonalds and get a McDouble? Beg your roommates to make you food? Well, you don't have to do any of these.
There are so many more options in the student-filled Provo/Orem area that can cater to your late-night cravings. Here's a list of the top 5 places to eat in Provo/Orem . . . after hours.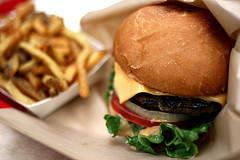 1.)  Guru's Café Guru's is a local and fun restaurant. They're open until 10pm on weekends and are sure to provide a fun atmosphere for you while you eat.
My recommendation: The cilantro lime quesadilla with a side of sweet potato fries. You will not regret it.
2.)  The Awful Waffle Just because the restaurant's name has the word "awful" in it doesn't mean it actually is awful. The Awful Waffle makes gourmet Belgian waffles, crepes, pizzas, and paninis—all until midnight on the weekends and 11pm on weeknights.
My recommendation: The Brussles waffle with raspberries and Nutella sauce.
3.)  Sammy's Café Sammy's is a Provo favorite, notorious for its picture-filled walls, delicious pie shakes, and moustache obsession. And, they're open until midnight every night.
My recommendation: The cheesecake pumpkin pie shake. The best combination of cheesecake and pumpkin that you'll ever taste.
4.)  In-N-Out Burger I grew up in Idaho, so I hadn't had an In-N-Out burger until my freshman year at BYU, and it immediately earned its place as my favorite burger. In-N-Out is open until 1am on weekdays and 1:30am on the weekends. While you're at it, be sure to check out their secret menu, found here: http://www.in-n-out.com/menu/not-so-secret-menu.aspx.
My recommendation: A regular cheeseburger with a chocolate shake. Can't go wrong.
5.)  Roll Up Crepes This restaurant produces both savory and sweet crepes—made to either fill you up for a meal or indulge your sweet tooth. The names of their crepes are sure to keep you entertained as well—they have everything from "Awkward First Date," made with bananas and ice cream, to "Just Friends," made with caramel apples, cinnamon, and granola, to "Honeymoon," made with mixed berries, dark chocolate, and almonds.  Oh, and they have sandwiches and paninis as well. They are open until 1am every night.
My recommendation: The Bachelorette—which has raspberries and white chocolate.
Want more reviews on Utah County activities? Like our Facebook page.
---