Valentine's Day Treat: Raspberry-Filled Chocolate Cupcakes
by Danielle Cronquist
For this lovely week of love, I thought it would be best to share a special Valentine's Day treat. Even though these raspberry-filled chocolate cupcakes with raspberry buttercream frosting take a little extra time to make, they are divine.
Cupcakes
I started by baking the cupcakes far enough ahead of time that they would cool before I filled them. You can find many different options for chocolate cupcakes online, but I am a firm believer that box cake mix tastes great. I chose to use a devil's food cake.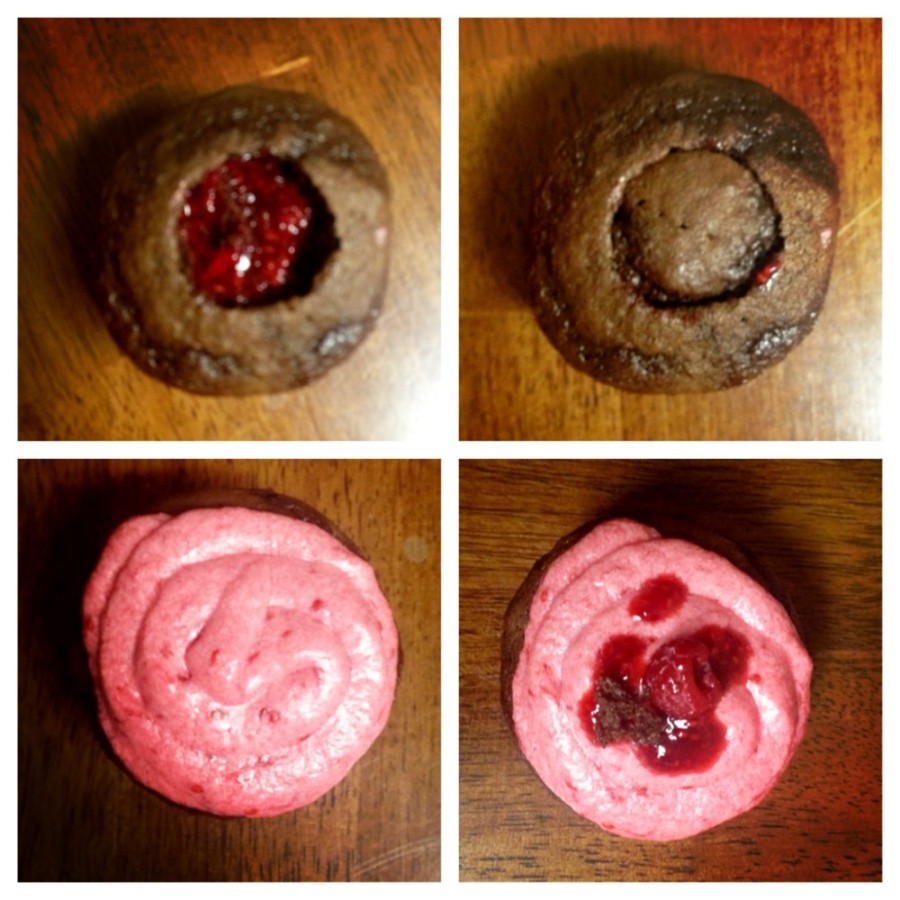 Raspberry Filling
I found the recipe for the filling at http://thekitchenprescription.com. It fills 12 cupcakes.
Ingredients
2 cups unsweetened frozen or fresh raspberries (I used frozen)
1/3 cup sugar
1 teaspoon lemon juice
Add all the ingredients to a bowl. If you use frozen raspberries, let the mixture thaw at room temperature. If you make this ahead, refrigerate it until needed.
Raspberry Buttercream Frosting
This was my favorite part of the whole cupcake! I found this recipe at http://www.myrecipes.com.
Ingredients
1/2 cup butter, softened
1/2 cup fresh raspberries
1 teaspoon vanilla extract
1/8 teaspoon salt
2 cups powdered sugar
Beat the first four ingredients at medium speed with an electric mixer until creamy. Gradually add powdered sugar.
Putting Together the Cupcakes
To remove the centers of the cupcakes I used a cupcake plunger, but if you don't have one of these handy tools, a large water bottle cap works too. Scoop out a space on the top of each cupcake for the filling (don't throw the extra cake away or eat it yet). Pour in your raspberry filling using a spoon. Place a piece of the removed cupcake back on top so that you can frost the cupcakes. For my cupcakes, I put the frosting in a plastic bag, cut off a corner, and used the bag as a piping bag to get a swirly design with my frosting. I wanted my cupcakes to look extra special for Valentine's Day, so I drizzled some of the filling on top, crumbled some of the leftover cupcake over it, and topped it with a raspberry.
And now, you eat.
Enjoy!
---