Why Traditions Are Important
There are many types of family traditions. There are religious traditions, seasonal traditions, celebratory traditions or just plain fun traditions. Whatever kind they are, all family traditions have one thing in common—they unite us. The best way to strengthen family relationships is by spending time together, and traditions can play an important role by helping families remember to take time to appreciate one another.
Most of my family's traditions revolve around two things: outdoor activities and food. In the part of Oregon where we live we have the sweetest berries. Every summer we make a point of going berry picking, taking advantage of a beautiful day, and then going home and enjoying the deliciousness together. Another annual tradition we have is on the day after Thanksgiving we go to the Christmas tree farm to chop down our tree. No matter what the weather is like, we go traipsing all over the farm looking for that perfect tree. It's always a fun and sometimes muddy outing that ends with stuffing a giant tree through the front door and warming up with steaming cups of hot chocolate.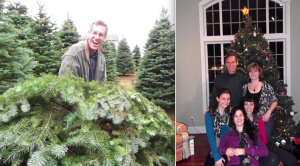 Taking the time to do these things together has strengthened our family relationships. We laugh and joke together and cherish these fun moments. Families can also develop weekly and daily traditions. Whether it's family prayer or game night, children remember and are shaped by these wholesome activities.
Elder L. Tom Perry said, "If we will build righteous traditions in our families, the light of the gospel can grow ever brighter in the lives of our children from generation to generation."
When we prioritize family traditions, we are prioritizing each other and the treasured relationships we have. It's never too late to start a new family tradition or rekindle old ones. Take some time today for family and traditions.
—Allie Hamilton, Stance
---
---