Winter Weddingland
IT'S WINTER!!! Isn't it wonderful?! Here are five reasons why a winter wedding is a wonderful idea: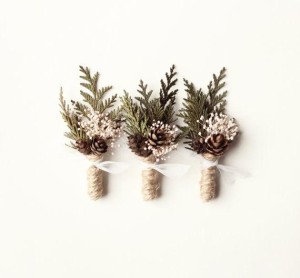 Rustic Pinecone Boutonnieres
   Stand Out
Winter weddings are unique. Flowers and colorful leaves tend to steal the spotlight, but what could be more magical than a snowy backdrop?
Plan B—Not!
Obviously, an indoor venue is your best option. But since you're limited to that, you won't need to worry about getting rained out, spraying for bugs, or having any questions about the weather—It's going to be cold.
No Wedding Burnout
With your wedding as the highlight of the season, guests will have a rejuvenated sense of eagerness to attend (and give better gifts)!
Less Competition
Vendors will be on a waiting list for you, not the other way around! See what I'm saying?
Better Quality
"Because vendors aren't in their busy season, they will be more attentive than they may be in June when they might be juggling eight weddings that month" (Annie Lee). No competition = more room for negotiating. Score!
Source: napkinspersonalized.com
—Miray Weeks, Editor, Stance
---
---