30-Day Bran Muffins
These bran muffins are the easiest breakfast-on-the-go! They are so delicious and so filling, and don't even need anything to go with them (although they are delicious with butter or jam).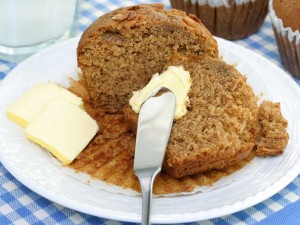 The best part? The batter literally lasts 30 days in the refrigerator so you can have delicious muffins all month! But let's be honest, you'll eat them way quicker than that.
Ingredients:
3 cups sugar (minus 1 TBS per cup…don't ask why)
1 cup vegetable oil
4 eggs, beaten
1 quart buttermilk
5 cups flour
1 teaspoon salt
5 teaspoons baking soda
6 cups Kellogg's All-Bran (long sticks)
2 cups boiling water
Mix together 2 cups of the All-Bran with 2 cups boiling water. Let cool.
In a large bowl, mix together the sugar, vegetable oil, eggs, and buttermilk. In a separate bowl, stir flour, salt, and baking soda together. Then add dry mixture to the large bowl with the wet mixture; stir together.
Add the remaining 4 cups of All-Bran to the large bowl, add the cooled All-Bran and water combination to the large bowl and stir until ingredients are just blended. Grease muffin pan and fill.
Bake at 400 degrees for 15-27 minutes or until toothpick inserted in the muffin comes out clean.
Remaining batter may be kept in a sealed container in the refrigerator for up to 30 days!
Yield: 4 dozen muffins.
—Morgan Lewis, Stance
---
---