A Short Life Lesson from a Short Scripture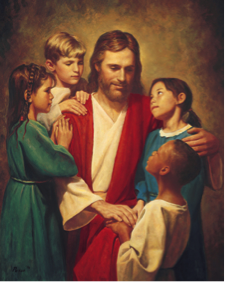 My husband and I made the big decision to take on a new and major responsibility–taking care of a new life. We are starting our family and expecting a little boy in February. This new chapter in our lives has been a constant thrill of joy and gratitude.
Since finding out we were pregnant, my husband and I have been experiencing many life lessons that are preparing us to be better parents. Onepecific lesson came from the scriptures: "We love him, because he first loved us" (Bible: 1 John 4:19).
This scripture is well known among the Christian population. My husband and I are familiar with it as well. However, we are now intimately familiar with this scripture.
The other night, after many disappointing attempts, my husband finally felt our little baby boy move in the womb. This caused my husband to beam with excitement and amazement. Then, he put his head on my belly and said, "Hi Baby, this is Daddy. I just felt you move for the first time. I want you to know that I love you so much already."
After hearing this declaration of unconditional love from my husband, I contemplated the meaning of his words. We have not met our little boy yet. We are just beginning to feel him move. We haven't even 100% decided on a name yet! But our hearts are filled with love for this little boy.
Following this train of thought, I found myself hoping that our son will know how much we love him and that our son will love us back. Most people would probably think, "Of course your son will love you! You love him."
This is similar to our love for God and Jesus Christ: "We love him, because he first loved us." (Bible: 1 John 4:19, italics added). God and Jesus Christ know each of us extremely well and their unconditional love is beyond comprehension. Because they have such a great love for us, we are filled with love for them.
This short life experience helped me understand, to a very small degree, what it must be like for God and Christ to love us first. We start out our lives with a heavenly family that already loves us and is taking care of us. This pre-developed love helps us to love them. Needless to say, this scripture also reassured me–yes, my son will also love me because I loved him first.
—Lexi Foster, Senior Editor, Stance
---
---