Provo Canyon Trail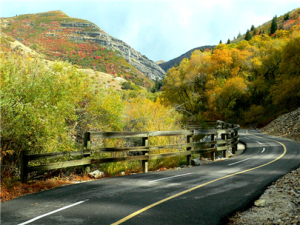 One of the best-kept secrets of Provo is the beautiful canyon trail that runs all the way down the canyon. In any one of the given parks off of University Avenue (which leads into the canyon), there is access to this trail, which extends all the way through the canyon down to Utah Lake.
This trail is a dream for any marathon trainers, and it's a beautiful ride for any bikers as well. One of the perks of this trail is that it is entirely paved all the way down. There are signs that divide the trail between pedestrians and bikers to keep people safe, and on a Saturday morning, there are plenty of runners to keep each other company (and make female runners feel more safe).
I tested this trail out just last Saturday and was amazed at this hidden treasure. The trail is set directly in the middle of the canyon, and running through it is like running through an autumn wonderland. It's right in the middle of all the trees and the sights are just stunning.
Towards the opening of the canyon into Provo, there is a beautiful cliff pass that I ran by as well as a waterfall. If the scenery wasn't stunning enough, I was very impressed by the accessibility of the trail.
When the canyon opened up, the trail had a very easy left turn allowing runners or bikers to continue into Provo, or to go straight and run down to Utah Lake. If you're looking for a place to jog, bike, or even just take a nice Sunday walk, this is the place for you!
—Jessica Romrell, Editor in Chief, Stance
---
---