Killer Recipes: Amy's Famous Cheesecake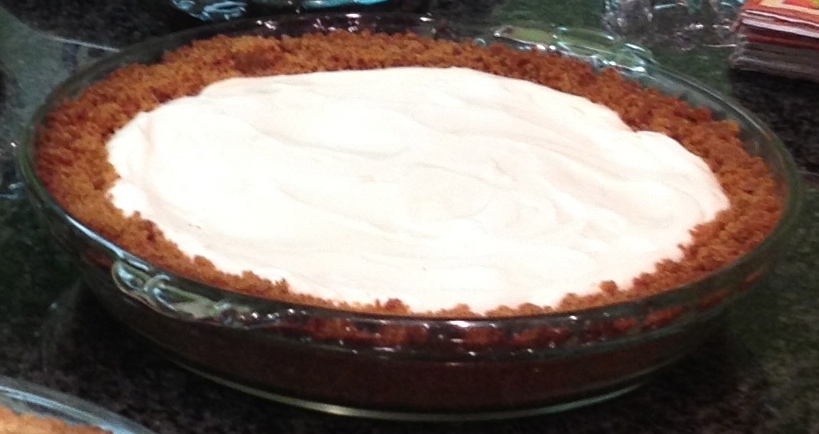 Ingredients
Graham cracker crust:
1 1/2 C graham cracker crumbs
1/2 C sugar
6 T melted butter
1 tsp cinnamon
Mix graham cracker crumbs, sugar, and cinnamon together. Add in melted butter and mix until mixture is sticky enough to put into a pie plate. Push mixture into the pie plate to form a crust and then refrigerate while making the rest of the recipe.
Cheesecake mixture:
2 eggs
3/4 lb of softened cream cheese
1/2 C sugar
1 tsp vanilla
1/2 tsp salt
Preheat oven to 375 degrees. Beat together the 2 eggs. Add in softened cream cheese, sugar, vanilla, and salt. Beat all ingredients until smooth. Pour mixture into cooled graham cracker crust. Bake for 20 minutes. Test the cheesecake to make sure the top is cooked enough, but not too much. Tap your finger on the top lightly and make sure your finger doesn't just fall through the cake. Take out of oven and sprinkle lightly with cinnamon. Turn oven temperature up to 425 degrees. Make the following top layer while you wait for the oven to get to 425 degrees.
Top layer of cheesecake:
1 1/2 C sour cream
2 T sugar
1/2 tsp vanilla
1/8 tsp salt
Mix all ingredients together in a bowl. Carefully pour it onto the hot cheesecake that you just
took out of the oven. Put cheesecake back in oven for another 5 minutes. After it is cooked, let
Cool at room temperature for about 20 minutes before covering and putting it in the fridge. Serve
either plain or with berry pie toppings. Enjoy!
---
---