Breadsticks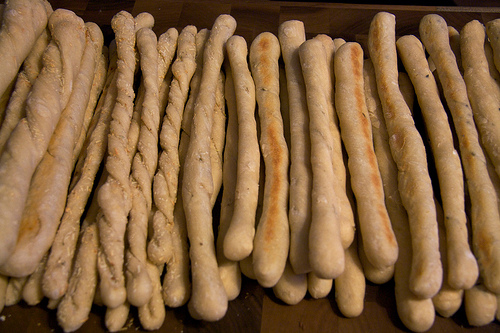 by Lauren Atkinson
Recipe by Sterling Gray in the Mecham Family Recipe Book.
If the thought of using real live yeast makes you cringe, overwhelms your meager baking abilities, or fills you with apathy, you're not alone. And you're not out of luck! I recently happened upon this recipe for delicious, flaky, white, homemade breadsticks. It requires only the ingredients you've already got in stock, and takes minimal food-handling skills. Now there's no need to fret over yeast rising and growing and molding. Following the instructions below, even amateurs can whip up impressive and irresistible breadsticks. Plus, these breadsticks are conducive to creativity. Add some more flavor by sprinkling toppings like cheese, garlic salt, cinnamon and sugar (think churros!), or chocolate chips. Note that, like most treats, these breadsticks are best made in a double or triple batch and shared with friends, roommates, and potential love interests.
Ingredients:
1/2 c. butter
2 1/2 c. flour
4 tsp. sugar
4 tsp. baking powder
2 tsp. salt
1 1/2 cups milk
Directions:
1. Preheat the oven to 375 degrees
2. Put butter into a 9×13 pan and melt it in the oven.
3. Mix the dry ingredients first.
4. Add the milk. Mix well.
5. On a floured surface, roll the dough into a 9×13 rectangle. Cut it into strips. Twist the strips if desired.
6. Place the strips of dough in the buttered pan. Once they are all placed, turn them over to get butter on both sides.
7. Bake for about 20 minutes.
8. Get creative with toppings (add them on with 2 minutes to go for maximum melting).
---