Butternut Squash Soup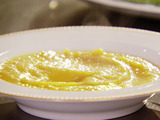 by Lindsay Sandberg
With winter setting in, nothing sounds better than a rich soup. This butternut squash soup recipe is delicious. Using an immersion blender makes the process even simpler. Enjoy!
Prep Time: 15 min
Cook Time:1 hr 25 min
Serves:
4 to 6
Ingredients:
1 (3-pound) butternut squash
Extra-virgin olive oil, for roasting, plus 2 tablespoons
Kosher salt and freshly cracked black pepper
2 shallots, chopped
1 quart low-sodium chicken stock
2 teaspoons curry powder (mild or spicy)
(Optional) Heavy cream to taste
Directions:
Preheat the oven to 375˚F.
Cut the squash in half through the stem and remove the seeds. Drizzle the cut edges with oil, season with salt and pepper, and put it cut side down on a baking sheet. Roast until very soft (about 1 hour). Remove the squash from the oven, turn the halves over, and let them stand until cool enough to handle. Scoop the flesh from the shell into a bowl, and discard the shell.
In a large saucepan or Dutch oven with a lid, heat the 2 tablespoons oil over medium heat. Add the shallots and cook until softened (about 6 minutes). Add the squash flesh, chicken stock, and curry powder, and bring to a boil. Reduce the heat to a simmer, cover, and cook until the squash is broken down (about 10 minutes).
Cool the squash mixture for about 5 minutes before adding it to a blender. Working in batches, puree the soup in a blender until smooth, transferring the puree to a clean saucepan as you work. Season the soup with salt and pepper to taste, and simmer a few minutes over medium heat to combine the flavors. Ladle the soup into serving bowls and serve immediately.
---