Chocolate Chip Cookie Pie
This is my go-to dessert for any occasion because it is scrumptious and so easy! It is an adaptation of a Nestle Toll House recipe that basically puts the most delicious chocolate chip cookie you have ever tasted into the form of a pie. It is sure to please everyone—I mean, really, who doesn't like chocolate chip cookies?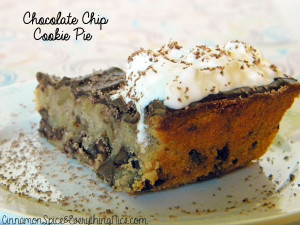 I often substitute other ingredients for the nuts because there are some picky eaters that avoid them.  My favorite substitution so far has been butterscotch chips, but you are welcome to let your creativity come out through this recipe! I imagine that marshmallows, coconut, or any chopped-up candy bar would be delicious additions to this pie. Top it off with some ice cream after it comes out golden brown and warm, and no one will be able to resist trying a bite…or ten!
The original recipe.
Chocolate Chip Cookie Pie
Ingredients:
1 unbaked deep-dish pie shell
2 large eggs
1/2 cup all-purpose flour
1/2 cup granulated sugar
1/2 cup packed brown sugar
3/4 cup butter, softened
1 cup semi-sweet chocolate morsels
1 cup chopped nuts (or really anything you want!)
Directions:
Preheat oven to 325 degrees F.
Beat eggs in large mixer bowl on high speed until foamy. Beat in dry ingredients (flour, granulated sugar, and brown sugar). Beat in butter. Stir in morsels and nuts (or whatever you decided to substitute). Spoon into pie shell.
Bake for 55 to 60 minutes or until knife inserted halfway between edge and center comes out clean. Cool on wire rack. Serve warm.
—Faith Sutherlin, Stance
---
---