Ideas for Family Fun: Ice Cream in a Bag
With the warm weather this spring, a great way to have some fun with your family is to make homemade ice cream together. This activity can be done at any age, but it's also a little messy, so the best place to do it is outside.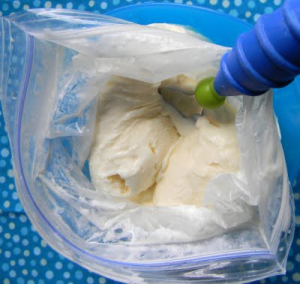 For this activity you'll need gallon zip lock bags and quart zip lock bags. First, put the ice cream mixture in a smaller, quart sized bag and ice and salt in a larger, gallon sized bag (double bagging is a great way to keep these from leaking). For different ice cream mix recipes, click here. Next, place the quart-sized bag inside the gallon bag filled with ice and salt. When you're placing the smaller bag in the larger one, be careful to make sure that the smaller bag is properly sealed to prevent getting ice and salt into the smaller bag.  Now here's the fun part: once the smaller ice mix bag is inside the larger ice and salt bag, shake it for ten to fifteen minutes, and watch as the mix turns into ice cream right before your eyes! This is a great activity for kids to see science at its best and parents to spend some quality time with them.
—Rachel Harris, Stance
---
---