Flourless Chocolate Muffins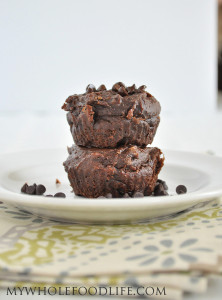 With one month almost gone by in the New Year, my resolution to not eat chocolate every day is slipping.
That's right, I am used to eating chocolate every day (my husband says I am a chocoholic). My resolution was made in an effort to feel healthier and not spend so much money buying sugar and cake mixes.
So what's a chocoholic like me to do when those cravings start raging? Make some flourless chocolate muffins! I found this little recipe on Pinterest and it originally was posted on mywholefoodlife.com.
At first, I was skeptical of a four-ingredient recipe that was supposed to be "healthy" and taste good. But then I made them, and one bite transported me from skepticism to chocolatey peanut butter heaven (a chocoholic's happy place).  Those cravings were satisfied, and I have a guilt free snack I can eat every other day.
Ingredients
Instructions
Pre-heat oven to 350.
In a food processor combine all ingredients. You may have to stop and scrape down the sides a few times.
Once everything is mixed well, spoon batter into lined muffin cups. I used silicone molds. The batter will be VERY sticky. I found wetting a spoon kept it from sticking.
I topped a few of mine with chocolate chips. Feel free to do the same.
Place muffin pan in the oven and bake for about 15 minutes.
Wait until these are completely cooled before removing from the pan.
*Note: I also added a handful of chocolate chips after combining the ingredients in the food processor.
-BrookeAnn Henriksen
---
---