Happy Oktoberfest!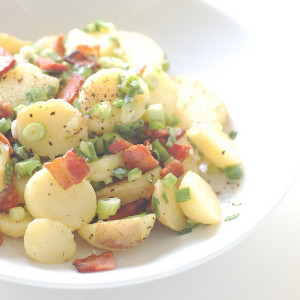 What's the first thing that comes to your mind when you think of Oktoberfest? If you thought of a man sporting lederhosen while drinking a mug of beer, I'm right there with you.
However, Oktoberfest is more than that and can be celebrated in a family-friendly way.
What started as a royal wedding jubilee in 1810 has now turned into an international festival of German food and culture.
Try this German potato salad recipe for your family's Oktoberfest celebration!
Ingredients:
3 cups diced peeled potatoes
4 slices bacon
1 small onion, diced
1/4 cup white vinegar
2 tablespoons water
3 tablespoons white sugar
1 teaspoon salt
1/8 teaspoon ground black pepper
1 tablespoon chopped fresh parsley
Directions:
Boil the potatoes. Then drain and set aside to cool.
Fry the bacon until browned and crisp. Remove from pan and set aside.
Add the onion to the bacon grease and cook over medium heat until caramelized.
Add the rest of the ingredients except the parsley. Bring to a boil and then add the
potatoes and parsley.
Sprinkle in half of the bacon. Heat the salad through and then transfer to a serving
dish. Sprinkle the rest of the bacon on top and serve warm.
This recipe was originally found at www.allrecipes.com.
—Lynne Crandall, Senior Designer, Stance
---
---