Homemade Marshmallows
Here's a fun holiday treat that the whole family can help make! These delicious homemade marshmallows will melt in your mouth, but the best part is choosing your favorite toppings to roll them in. Crushed graham crackers, toasted coconut, and cinnamon sugar are some tasty options, but you can use whatever you like! Try crushed candy canes for a festive holiday twist.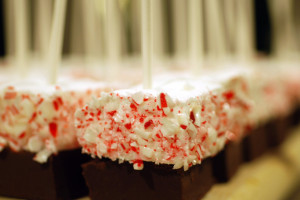 Recipe courtesy of Analaine's Home Cooking.
Marshmallows 
3 packages Knox gelatin
1 cup water
2 cups sugar
1 1/2 cups white Karo
1/4 teaspoon salt
1 teaspoon vanilla
Mix the gelatin with 1/3 cup water in a small bowl, then add 1/3 cup boiling water. Mix well. Put 1/3 cup water in saucepan and bring to a boil. Add 2 cups sugar, stirring constantly until it comes to a boil. Then add 1 1/2 cups Karo and 1/4 teaspoon salt.
Mix well, then pour into large mixing bowl. Stir in the gelatin mixture and blend together. Let it sit until lukewarm.
Mix on low speed to begin with, add vanilla and beat on high until peaks form and it will hold its shape. Grease a large cookie sheet and spread the marshmallow mixture onto the cookie sheet with a rubber spatula. Let the marshmallows cool in the refrigerator for about an hour. Cut the marshmallows into squares (this is easier if you use a knife dipped in water) and roll in your favorite toppings. Enjoy!
Contributed by Melissa Gee
---
---