Nutella Hot Chocolate and Frozen Whipped Cream
I need to share a few wonderful things with you all today. First is this video. It is How the Grinch Stole Christmas in American Sign Language, and you cannot tell me that this little girl isn't the most adorable thing or that you don't feel the Christmas spirit after watching it. Don't even try.
The second and third wonderful things on my list are two easy-peasy recipes that you can use for your ugly Christmas sweater party, your white elephant gift exchange, or just for you, because you got your Christmas shopping done in August (go you). They are Nutella hot chocolate and frozen whipped cream. Trust me, they are so dang easy that you will wonder why you don't do this every year!
Nutella Hot Chocolate
Recipe from here.
2 cups of milk (whole, skim, soy, 

almond

, lactose free… any kind will work)

a heaping 1/4 cup of Nutella

whipped topping or marshmallows (optional)
In a 1 – 1 1/2 quart crock pot add 1 cup of the milk and the Nutella. Whisk together until the Nutella is completely dissolved and incorporated.
Add the remainder of the milk and whisk to inocorporate it well. When it's well incorporated the milk will be all frothy on top.
Place the lid on and turn the crock to low. Let heat completely through for 1 – 2 hours (mine took about an hour and a half).
Whisk one last time before serving to make sure everyone gets an equal amount of that great Nutella flavor. Serve topped with your favorite whipped topping or marshmallows.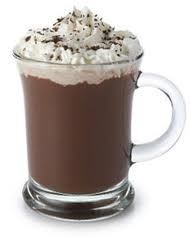 Frozen Whipped Cream
2 cups heavy whipping cream

2-3 tablespoons powdered sugar

1-2 teaspoons vanilla extract
Pour cold whipping cream into bowl of mixer.  Using whisk attachment whisk, on medium speed, whip until it begins to thicken and you see soft peaks form.  Add in powdered sugar and vanilla, continue mixing until well incorporated.
Take your whipped cream and spoon individual servings onto parchment lined baking sheet (I used my frosting tip/bag because they were already full of cream).  Place in freezer for 2-3 hours or until completely frozen.  Move to airtight container and store in freezer.
Merry Christmas, all!
By Sam Lund
---
---