How to Tell if He is Marriage Material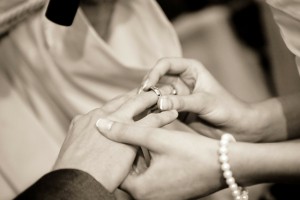 After coming from a city where righteous, kind, ambitious, loving young men were few and far between, I can understand the appeal of dating in Provo, where that is  not the case. There are so many practically perfect men that cross your path every day, and if you happen to snag one, how can you know that he could be your eternal companion?
When I had been dating my boyfriend (now fiancé) for 6 months, I knew I loved him, but I just wasn't sure if he was the one for me. Some people say they "just know," but for a logical thinker like me, that kind of thinking just didn't work out.
Luckily, my brother sent me this document of questions for couples anticipating marriage to ask each other. I cut these questions into strips, folded them up, and put them in a bag. Every once-in-a-while, we would pull out the bag and take turns picking random questions and answering them. Not only was it informative, but it was also both spiritual and fun. Unfortunately, there is no guarantee, but these questions can give you a deeper insight into the heart of your loved one.
My fiancé and I highly recommended these questions to anyone who is considering getting married, as most of these questions do not usually come up in normal conversation.
These questions (and my fiancé's answers to them) were pivotal in my decision to marry my best friend. Maybe you already know that he's the one, and maybe you don't, but regardless, give these questions a shot—you might be surprised by your results.
Written by Cari Taylor
---
---