Killer Recipes: The Best Bread EVER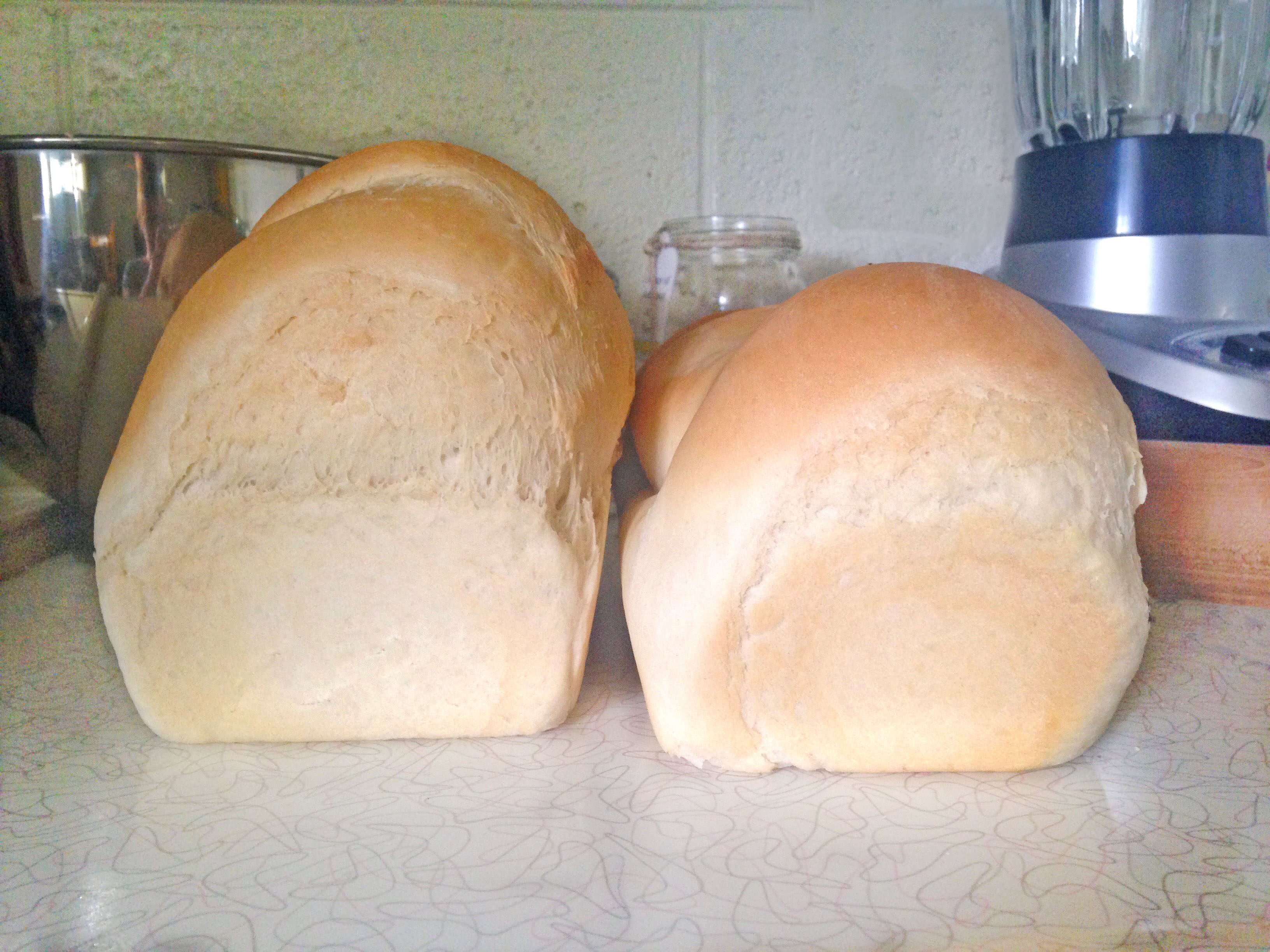 Let me tell you a little story.
I am a little bit of a cheapskate . . . or maybe a lotta bit.
Sometimes, as a result, my husband and I eat some foods of questionable quality, because why would I spend 20 more cents per ounce on the name brand?
But sometimes, it results in some really great things.
Ever since getting married, my husband and I have been buying the cheapest bread we could find at the local supermarket. It was 89 cents a loaf, so we thought it was worth the slight stale-ness, and overall cheap-o flavor. I soon started to get sick of it; never wanting to pack a sandwich for lunch because the bread was THAT bad. Food, in my opinion, is all about the pleasure factor, and this bread scored about a -12 on a scale of 1 to 10.
But I wasn't about to buy the most delicious bread in the bread aisle! No way, José!
So I thought to myself, "How can I have a more pleasurable experience eating cheap bread?"
And then it came to me.
I would just make my own bread. Who doesn't love homemade bread?
I'd never made homemade bread before—at least, not without the help of a pre-packaged mix—but I figured that buying a mix would defeat the purpose of saving money, so I started my search for a delicious bread recipe.
Since this was my first attempt at the bread making business I decided to go the fool-proof route and save the internet searches for delicious and fluffy bread recipes for another time. That was my first mistake.
I came across this recipe for no-fail Amish bread, and the picture looked yummy, so I trusted it. Ha.
Anyway, I did know at least one thing about baking bread, and that was that it's different in high elevations, like Utah. I wasn't sure where this recipe came from, so I looked up what adjustments you could make to bread recipes for high elevation, and I did all of those things, just to be sure. That was my second mistake.
The bread came out of the oven a little stumpy looking, but it looked like bread, so success! Right?
Wrong. It was dense, crumbly, and all around not so delicious. I figured that's just how bread was going to be, so I kept making that horrid bread recipe! Why, oh why did I do that?
Weeks later, as I began my bread-making, I thought, "Why am I even making this? It's not even that great." I slumped down and berated myself as a baker, telling myself I was a failure because my homemade bread didn't taste nearly as delicious as literally everyone else's.
But YOU, TOO CAN BAKE. I promise you, if it's not working, just try a new recipe. You'll see.
I finally searched for a fluffy bread recipe, because the denseness of my bread was the feature I most disliked about it, and I found the winner, folks.
This recipe is from Connie Armstrong, and was featured on deliacreates.com. It is already adjusted for high altitudes, so don't worry about it not working (unless you live in a lower altitude than Utah. I haven't tried it anywhere else, so I don't know).
Here it is, friends: The tried and true Best Bread EVER
Makes 2 large loaves, 3 medium loaves, or 1 large loaf and 2 mini loaves
Ingredients:
2 1/2 cups HOT water
1/3 cup oil
1/3 cup sugar or honey
1 T salt
3/4 cup flour and about 5-7 cups of flour (divided) *I give flour notes and tips at the end.
1 1/2 TBSP yeast (any kind)
Spray oil
Directions
Whisk water, oil, sugar/honey, and salt together in a large bowl.
Add 3/4 cup flour and whisk for 30 seconds, then yeast and whisk for 30 seconds more.
Add 2-3 cups of flour and mix together with a spoon. If using a mixer, add the rest of the flour

.  (The total flour should amount to about 5-7 cups, not including the flour used in step 2.

) Let the mixer knead the dough for about 5 minutes plus. If mixing by hand, add the rest of the flour and mix until shaggy looking and hard to work with a spoon. Knead in the bowl a few times and then turn the dough out onto a floured counter. Knead for 5+ minutes. The dough should be soft, but not really sticky.
Let rise in a clean, greased, covered bowl for about* 30 minutes. You can let it rise on the counter, but it will rise nicely in the oven. Set your oven for 450 degrees for a minute or less, then turn it off before placing the oven-safe bowl inside.
When the dough has risen, remove from the oven and heat the oven to 175 degrees.
Grease your bread pans and the counter with spray oil. Divide the dough.
Roll out the dough into a long oblong shape until all the air bubbles are gone.
Roll the dough into a tight cylinder, tuck the ends under or squish them, and place it in a greased bread pan. Repeat with remaining dough.
Place loaves in a warm oven (175 degrees) for about* 1/2 hour, or until the dough has risen to fill the pan.
Turn the oven up to 350 degrees, and cook for about* 30 minutes. The bread is done when you hit the top and it sounds hollow. Don't worry about time as much as this indicator. The bread isn't done until you hear the hollow sound. If you are worried that the crust is getting too brown, cover it lightly with a piece of foil.
Turn out on a wire rack and let cool completely before cutting. Smother the top of the loaves with butter if you desire.
* The times listed for rising and baking are approximate. Weather, altitude, your oven, the moisture content of your flour, etc. can all affect how quickly your dough will rise and bake. Make sure that you check to see that the dough has doubled for the first rise, filled the pan for the second rise, and that you hear the hollow sound to know when it is done baking. All these indicators supersede any time estimates given.
BY CARI AVERETT
---
---