Family, Food and Fun: Thanksgiving Recipes
Thanksgiving is coming up and FOOD is the word. When thinking about Thanksgiving, many of us number turkey, mashed potatoes, stuffing, and pie among the many things that we are grateful for. Many of the memories that I personally have surrounding this time of year involve cooking and eating together with my family (especially my grandma's amazing coconut cream pie).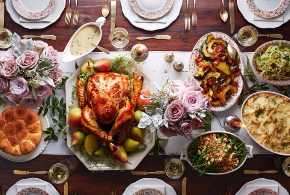 Isn't it interesting how the food we eat is such a central part of our culture and identity? Traditions surrounding food can vary widely from family to family, and even wider from culture to culture. Something that does not change between cultures, however, is the fact that food brings people together. Research shows that eating together as a family can make a huge difference in having a healthy family life.
Consider using this holiday season as an excuse to take some time to eat a good meal with your family. Cook together, or even just go out to a restaurant together if cooking isn't your style. No matter where the food comes from, eating a meal and spending time together will create memories, and bring your family emotionally closer.  Now get together and eat up!  
P.S. I thought I'd share with you two of my favorite recipes that my mom would always make during the holidays! They're easy, inexpensive, and delicious! Bon appétit!
Frozen Cranberry Whip
1) Mix in a large bowl: 1 package whole cranberries (ground in a food processor or blender), 2 cups of sugar, and 1 small package mini marshmallows (10 oz package)
2) Cover bowl and let it sit all day or overnight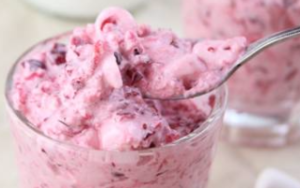 3) Later: Whip 1 pint of whipping cream until stiff. Add 3 oz cream cheese (chopped into little chunks), and 1 large can crushed pineapple (drained)
4) Mix everything together (including sugar and cranberry mixture)
5) Separate into two bread-loaf pans, cover and freeze
6) To serve: Briefly run warm around the outside of the pan to loosen frozen loaf and slice up servings
1) Preheat oven to 400 degrees. Grease a 9×13 baking dish
2) Boil a large pot of water, add sweet potatoes, boil until slightly underdone, about 15 minutes.
3) In a large saucepan combine 1 1/4 cups margarine, 1 1/4 cups brown sugar, 2 cups marshmallows, cinamon and nutmeg to taste.
4) Stir potatoes into the margarine sauce. While stirring mash the potatoes.
5) Bake in preheated oven for 15 minutes, remove and top sweet potatoes wtih 1 cup of mashmallows, cook until marshmallows are slightly golden.
Written By Rian Gordon
---
---