Wedding Wednesday: Kid Questions
The excitement is building; I am officially counting down the days now. In a little over two weeks my fiancée and I are getting married in the Salt Lake Temple! He feels like it's not coming soon enough, I feel like the time is whizzing by.
Today, instead of talking about wedding planning, I'd like to talk about something that I will have to start thinking about in the near future; when to have kids. My fiancée and I have only talked about it occasionally, and it was only the basic questions like: "how many kids do you want?" or "what should we name our kids?" We haven't really talked about it seriously yet, but I imagine that time will be coming soon. It's a question that all married couples have to face and eventually decide on.
A couple weeks ago, my cousin told my fiancée and I not to have kids until he had a secure job. At the time we just smiled and didn't say anything, but I was inwardly upset. Not only was it not her place to say, but also in the LDS faith we are taught that having children is part of God's plan, and that families are essential to our salvation. I have often heard from Church leaders that couples should not necessarily wait until they are financially secure to have children. I knew that my cousin had heard the same testimonies on the subject so I was confused as to why she would say that to us.
I had to take a step back and think about where my cousin was coming from. My cousin grew up in a home where her father came from a well-to-do family and was already secure in his job when he married her mom. Taking this step back, I could see her perspective and knew that she sincerely had our best interests at heart.
While my cousin's advice was logical, it is not up to her, the rest of my family, nor my friends, or really anyone, to decide when my fiancée and me have children. The decision when to have kids and how many should be between the spouses and the Lord. When making this decision, and really any important decision, it is necessary to consult with each other and pray to the Lord about the decision. By doing this we invite the Lord to be a part of the marriage and have a hand in it.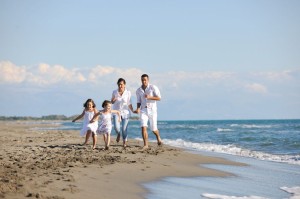 Just as we wouldn't want to be judged, it is important not to be judgmental of other couples based on how many or how few kids they have. No one really understands their specific situation, only the Lord does. The Lord is the judge of mankind, not us. Many times it may be difficult for a couple to bear children, and it would be unfair to judge them. Remember, it is not anyone else's business; it is solely between husband, wife, and the Lord.
I personally cannot wait to start a family and I am so ecstatic to be a mother. Families are essential to society, and most notably to the children that are brought into it.
By Bryn Adams
---
---