Wedding Wednesday: To Register or Not to Register?
The time just keeps flying by. I can't believe it, but only a month from today I will be getting married! We have gotten a lot more wedding things done which is a huge relief. Just last week my fiancée and I sent out a majority of our invitations. Along with our invitations we had an insert card that said that we were registered at Target.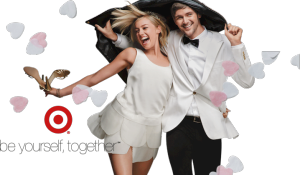 So, last week we also went and registered at Target. I feel like today, registering at places like Target, Bed, Bath & Beyond, or Kohl's has become common for bridal showers or weddings. Way back when (your parents can probably remember) no one registered and often times just asked for money. In a way I wish it were more like that today, because really all a new married couple needs is money, but it is seen as tacky asking for it nowadays. I would like to share my experience registering for Target and the pros and cons that happened and it might help you decide whether or not registering is for you.
To begin, registering was tiring. It might sound like a lot of fun running around a department store with a scanner gun, pointing at things on the shelves. I won't lie; it was fun at the beginning, but eventually all our energy got sucked out of us. Walking around a big store like Target can get tiring and annoying, especially when you can't find the aisle you need. Eventually it became a chore trying to find the barcode on each item to scan.
By the end, my body was tired from walking around so much and my scrawny pathetic arms were sore from holding the scanning gun, I just wanted to go home. It was fun at the beginning, but the phrase "shop till you drop" became more literal to me at that moment than ever before.
Secondly, we will most likely not get half of the things we registered for that night. I think I have only ever used a registry to buy someone a gift once in my life. It's sad but true; probably more than half your guests won't use your registry to find you a gift. Thankfully, you will still get things you need and there will be those people who will get you a gift card or just give you money. At this point in your life when you don't have much, any gift is going to be of help. My dilemma was, however, if I probably won't get 75% of the things I asked for on my registry was it even worth it? I would have been easier not to make one at all.
The last thing I learned on my registering adventure was actually a positive thing that might trump all the negativity of the situation. Going and registering made me more excited to be married to my best friend and it gave me a dose of reality. Making the list before the trip and deciding what we needed for our new lives together made me excited to have my own "home" (if you can call a college apartment home). I'm so excited to share a living space with my new companion and be able to decorate it how I want and have the items that I want. It also opened my eyes to what two people require to live comfortably and what may not necessarily be needed for a comfortable and humble beginning. It was an enlightening experience that will most definitely help us in the future.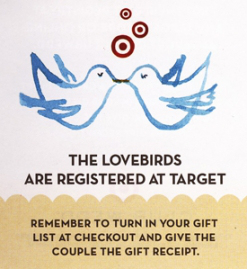 I still haven't decided whether or not having a registry was worth it. Maybe I will make up my mind after opening the presents and seeing what we got and what we still need. It still was an interesting experience and something I'm not sure I would want to pass up, but I leave it to you to decide.
By Bryn Adams
---
---