Wedding Wednesday: Meet Bryn
My name is Bryn Adams. I am currently a junior at BYU, and…I just got ENGAGED!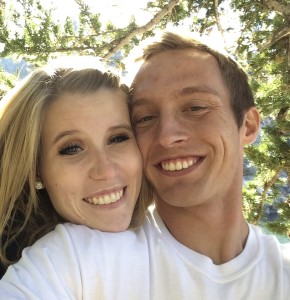 While being engaged has probably been one of the most exciting times in my life, it has also been the most stressful. Being a full-time student and planning a wedding is no easy task; it's hard to find a balance between the two. While I wouldn't say I'm an expert by any means, I have learned a few things in the past couple of weeks that I would like to share with any of you who are engaged at this moment or who hope to be in the near or distant future.
Tip #1: Start planning as soon as possible
Being engaged is an exciting, blissful moment and you should definitely revel in it. However, it's important to start getting serious about planning the wedding as soon as possible. My fiancé and I immediately started calling businesses for consultations the day after he popped the question. It has only been two weeks and we already have the temple date set, the reception venue, the cake and food at the reception, decorations, and the honeymoon planned. Just this past week we took some engagement photos, and I've already gone dress shopping (with no luck yet). Thankfully, school has been put on the back burner only slightly. Planning a wedding isn't something you want to procrastinate because it is stressful. The more you have out of the way beforehand, the less stressed you'll be.
Tip #2: Use your family and friends' talents
Everyone has that really artsy person or crazy micromanager in their family or circle of friends. I'm telling you that you will be grateful for your family and friends' talents when it's time to plan a wedding. They will be your lifesavers, stress savers, and money savers. Don't be afraid to ask your friends or family to help you, in fact, many of them may even offer their talents to you. My cousin has always had a knack for art and wants to go into photography. She's a pretty good photographer already and has an awesome camera to boot. I asked her if she would be willing to take my engagement and bridal photos, she was happy to help. Instead of paying a professional hundreds—maybe even thousands—of dollars to take our photos, we're having my cousin do it for cheaper. When planning a wedding, your family and friends become your greatest assets. Oftentimes they'll be more than happy to help.
Tip #3: Talk to your fiancé:
When it comes to weddings, it is usually the bride who has been dreaming and planning this day in her head since she was young. While planning your wedding, don't leave your fiancé out of it, assuming that because he's a guy, he wouldn't be interested. Your soon-to-be-husband may have some good ideas that you never even thought of. Although he may not want to be involved with the whole thing, don't leave him out. Ask him how involved he wants to be with the planning. Not only can your fiancé give ideas and advice, he can also be the one that keeps you sane. Tell him what your ideas are, what you're stressed about, and what you want help with. Who knows, may he'll surprise you with an awesome idea or give you comfort when you need it.
Though I feel like I've gotten a lot done in two weeks, there is still so much to do. I'm learning as I go, and I'm  grateful for all the help that I've been given by my friends and family, which I'm sure I'll need even more as the date draws closer. These tips have already helped me and I hope they'll be helpful to others as well.
---
---