Wedding Wednesday: Picking the Perfect Dress
My name is Bryn Adams and about a month ago I got engaged to my best friend!
Over the last month, my fiancée and I got a lot of planning for the wedding done. One of the major things that happened two weeks ago was that I finally found my wedding dress! After searching for a while for the perfect dress, I believe that I have finally found the one. Through this dress shopping experience, I feel like I've learned a lot. So, allow me to share my newly gained wisdom with all you future brides.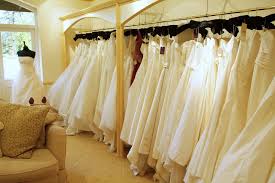 Don't feel pressured: Although the employees at bridal shops are usually helpful and nice, they want you to pick one of THEIR dresses. Bridal shops will tell you things in order to convince you to decide on a dress that day. However, don't let them pressure you into a decision unless you're sure about the dress. Check out other dress shops and pick the dress YOU want. Don't let your friends or family members pressure you into a decision either. It's your dress; you are the one who will be wearing it on your special day.
Temple Appropriate: When picking out your wedding dress, you should consider the rules your temple has. Different temples have different requirements for dresses and you should look over them and know what is and is not appropriate. If you want to wear your wedding dress in the temple, then make sure it follows the guidelines. You could even talk to the matron of your temple to double-check. A word of advice, though—if you find a dress you love that is modest, but perhaps has too many sequins, or is ivory instead of white, don't worry about it. Wearing a temple dress for your sealing is perfectly fine and may even make it more special. You will most likely wear that temple dress again when you go to the temple to do ordinances. Every time you wear it you will be reminded of that special day.
The one that goes WOW: By wow, I mean pick the dress that makes you feel and look amazing. You'll know when you find the one, your mom will start crying, and you won't be able to stop smiling. There are a lot of pretty dresses out there, but pick the one that feels like a wedding dress, not just another prom dress that happens to be white. Picture yourself in the temple, in that dress, with your future husband staring back at you and you'll know.
Just have fun! It's not everyday that you get to try on tons of beautiful dresses and have people tell you how awesome you look. Good luck, I hope these tips come in handy.
---
---