Wedding Wednesday: Meeting The In-Laws
In exactly a month and sixteen days my fiancée and I will be walking through the doors of the Salt Lake Temple together. I am so excited and can't believe how fast time is flying by, although it still isn't coming soon enough! Nothing major has happened recently, I am still working on the little things for the wedding.
My fiancée's parents came up from Arizona to meet my parents on the 25th of October, which was very exciting. Both my fiancée and I had already met the other's parents, they just hadn't met each other yet. Overall I would say it was a very successful visit. Meeting the in-laws is a big part of the wedding process that sometimes gets overlooked. It can be a little nerve-racking, but if you try to keep in mind these three tips, your initial first meeting should go a whole lot smoother.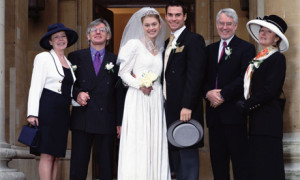 #1 Be Yourself
I might sound like a broken record, but being yourself is incredibly important. You will most likely be interacting with your in-laws for the rest of your married life so it's essential that they get to know YOU. Don't try and change yourself in order to meet what you think their expectations are. It's easy to tell when someone is trying to be fake, so don't fake it. If you act like yourself then the people around you will act normal too, dissolving tension from a potentially stressful situation. Don't be nervous, you know you better than anyone.
#2 Get to Know Them
Not only should they be getting to know you, but you should also get to know them. Don't spend the whole time talking about your life—ask about theirs. Take real interest in their lives and passions; don't feign interest. The more genuine you can be in this first meeting the better. Don't just take interest in your mother or father-in-law; take interest in your fiancée's siblings as well. Think of your in-laws as an addition to your family. Be kind and considerate, and treat them as you would treat your own family.
#3 Proper Setting The first time I met my fiancée's parents was at his family's condo in Cedar City. There were a lot of people there and we went snowboarding and played pool all day. He met my family at a birthday party for my cousin, where there were also a lot of people there talking and having fun. It is important that when you meet your in-laws for the first time that it is in the right setting, preferably, where not all the attention is on you. There are better times for you to interact one-on-one with your in-laws but for the first meeting that might be awkward. It's best if it's at a casual setting, with lots of people around and something going on. This way not all the pressure is on you and hopefully some of the awkwardness of that initial meeting will be diminished.
It's always important to leave a good first impression. While that is true, don't stress about meeting your in-laws, most likely they will love you just as much their son or daughter loves you.
By Bryn Adams
---
---