Everybody That You Meet Has an Original Point of View: More Parenting in "Arthur"
I had so much fun analyzing parenting styles in "Arthur" last week that I decided to do another cartoon animal related post. Although the Crosswires and the Barneses are a little bit more dysfunctional than the Reads, the Baxters, and the Frenskys, they still pass parenting muster.
The Crosswire family:
The Crosswires are Elwood City's equivalent of the Rockefellers and they very much fit into the rich parent stereotype. You know the one—whenever their daughter needs quality time, the parents buy her a new toy and leave her with the butler. Mr. Crosswire gets very little screen time and Mrs. Crosswire gets even less. As such, Muffy is quite spoiled and frequently relies on whining and wheedling to get her way, rather than actually thinking about the problem she needs to solve.
However, things aren't all bad in the Crosswire household. True, Muffy's mother is rarely seen and when she is she never says anything. She gets a line in the head lice episode where she reminisces on her own experience with lice, but it's the nanny (who only appears once or twice) who's actually washing Muffy's hair. But Bailey, Muffy's butler/mentor, is a wise character who helps acquaint her with opera and get a book club started. And Mr. Crosswire himself isn't all that bad. He takes Muffy to the opera and to art exhibits. He also takes over coaching the soccer team when none of the other parents will step up. Mr. Crosswire enables Muffy's spoiled lifestyle, but he genuinely seems to care about his daughter and just wants what's best for her.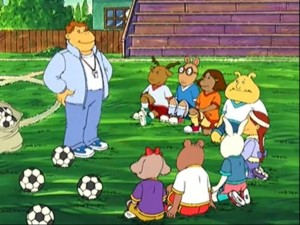 The Barnes family:
Binky is first introduced to the audience as a bully in a gang called the Tough Customers, and his parents are apparently unaware of his bullying tendencies. However, as the series goes on, Binky sheds the stereotype more and more as it's revealed that he likes ballet and catching butterflies, both hobbies that his parents fully support.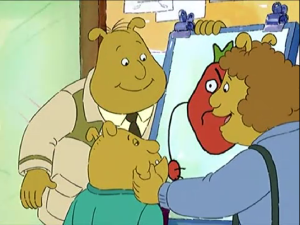 Binky, like Buster, seems to be a victim of helicopter parenting—there's an episode where he finds out that he has a peanut allergy and his mom kicks into High Mom Mode, trying to protect him. As a result, Binky sometimes acts out to assert his own independence. At the end of the aforementioned episode, though, because he tells his mom how he feels, she agrees to be a little less involved and he agrees to check in with her a little more often. The fact that they communicate and continually reassess their standing is the signal of a healthier relationship to come.
Both the Crosswires and the Barnses want what's best for their kids, but that's not enough—they have to communicate with them. The best parents tell their kids their reasoning for rules that seem arbitrary, but they also listen to feedback and adjust accordingly.
You don't have to be perfect to be a good parent. Just listen to your heart*.
*listen to the beat, listen to the rhythm, the rhythm of the street…
—Becca Barrus, Stance
---
---