First-Ever Failed Family Photo Contest!
We get it. Not every family picture is a winner. But…the laughs to be had afterward? Priceless.
HENCE, our first-ever Stance Failed Family Photo contest! Starting today, we will be sharing our favorite hilarious family photos gone wrong. The top three pictures chosen by our staff will be featured on the blog (along with the knee-slapper tale behind the picture), and the winner will receive a special PRIZE! So get sharing!
HOW TO SHARE (so many ways!): 
Tag us in your picture on Facebook.
Share the picture to our Facebook page.
Tweet the picture to our Twitter account.
Email it to stance.socialmedia@gmail.com
Tag us in your picture on Instagram.
Here's a little inspiration, courtesy of awkwardfamilyphotos.com.
"This was the photo shoot for my newborn son. I was supposed to be looking lovingly at him and instead sneezed all over him. The photographer caught it at just the right moment.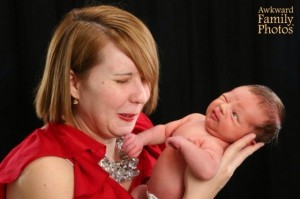 ---
---